Tricia Geraghty
Senior Vice President and Chief Marketing and Experience Officer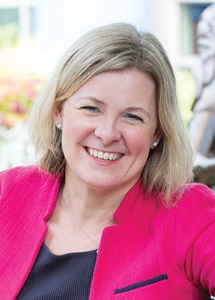 Tricia Geraghty is Chief Marketing and Experience Officer at Children's Wisconsin, the state's only pediatric health system dedicated 100% to kids and teens. 
Tricia's passion is to tie together the brand and the customer experience to support both mission and growth. She often serves as the voice of the customer in strategic initiatives, acting as a champion for community needs and for human-centered solutions. 
Throughout her career, Tricia has been known for innovation, team building and exceptional communication. At Children's Wisconsin, Tricia leads the system's brand, experience and growth strategy, including digital innovation, telehealth, patient experience, referral development, and all communication.
At Children's Wisconsin and in her prior role as Vice President for Marketing at Marquette University, Tricia led the first brand campaigns in the institutions' histories, tapping into differentiated services and emotional connections to deliver customer engagement and response. She strives for communications that are integrated and activated, bringing stories and services to the public through multiple channels and in multiple media.
In 2018, Tricia was named Chief Marketing Officer of the Year by the Business Journal serving Greater Milwaukee. She has also been recognized as one of Milwaukee's Forty Under Forty (2008), as one of Milwaukee Magazine's 35 Faces of the Future (2002) and by OnMilwaukee.com as one of Milwaukee's "100 Coolest Moms" (2007). She holds a master's in Business Administration, with honors, from the University of Chicago-Booth School of Business and a bachelor's in History, magna cum laude, from the University of Illinois at Urbana-Champaign.