Benefits (Total Rewards)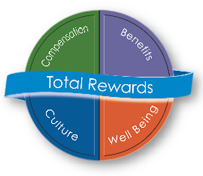 Total Rewards is our investment in you. We believe in rewarding our employees for their good work and the impact they have on the lives of children and families.
Total Rewards refers to everything we have to offer you as part of a career at Children's Wisconsin. It's everything that you value and find rewarding about working here. The combined parts of our Total Rewards - compensation, benefits, culture, and well-being - help us to attract, motivate, and retain the best employees.
Total Rewards is...
Compensation
Base pay
Merit increases
Overtime
Pay practices (on-call, shift pay)
Benefits
Health plans with open-provider networks
Employer health savings account and dependent care contributions
Retirement savings plans
Long and short-term disability
Life insurance
Adoption assistance
Education assistance
Well-being
Paid/unpaid time off
Paid personal leave carryover and sellback
Backup care for children and adults
Health and wellness programs
Community involvement
Dependent care savings accounts
Employee Assistance Program
Culture
At Our Best (values)
Performance management (ongoing feedback about performance and goals)
Recognition
Employer of choice/reputation
Employee events
Transparency in Coverage documents (a requirement of the Department of Health and Human Services)
UMR is the health plan administrator responsible for processing the health and prescription drug claims for all three health plans that Children's Wisconsin offers to its employees. UMR is a UnitedHealthcare company. To comply with the Transparency in Coverage rules released by the Department of Health and Human Services, Children's is required to publicly share the following UMR/UnitedHealthcare documents:
Featured rewards and benefits
Learn a little more about a few additional rewards and benefits enjoyed by Children's employees.