Featured benefits
These are just a sampling of the rewards and benefits appreciated by Children's Wisconsin employees.

Education assistance
Learn and grow throughout your career. When you're ready to further your formal education, we're ready to help. Many of our employees qualify for education assistance to help with expenses. And, if you're interested in a nursing career, our President's Nursing Scholarship is a great way to get started. You'll have opportunities to grow on the job too. Free educational resources, many available online and on-demand, put professional education easily within reach for most employees.

Healthy Rewards health and wellness program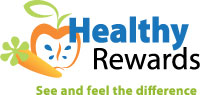 Creating a culture of health and well-being for employees is a priority for Children's and is a core component of our Total Rewards program. Our Healthy Rewards wellness program provides employees with opportunities to reduce insurance premiums and earn other incentives all while making strides toward a healthier lifestyle.
Healthy Rewards offers:
Health risk assessments
Biometrics screenings
Wellness challenges, on-site fitness programs and massage
Coaching (nutritional counseling)
Access to discounted gym memberships
Plus more
Backup care
Backup care is peace of mind for you and care for your family when something comes up and you can't be there. When care plans for a family member fall through or when the kids get an unexpected day off from school, backup care for children and adults is available at home or in a center near you for a minimal cost.