Child and family therapist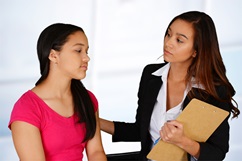 Helping kids cope
At Children's Wisconsin, we believe kids deserve the best. Sometimes, that means helping them cope with social and emotional difficulties that arise.
We're looking for child and family therapists to provide the skilled, caring counseling services kids need throughout our system. In this role, you'll help children and parents find healing as they work through extensive histories of trauma and abuse, depression, anxiety, behavioral problems, and adoption or foster care issues.
When you work at Children's, you'll be part of a nationally ranked health system with expansive and innovative care. Our counseling program is on the forefront of Trauma Informed Care and well-being practices, and we're creating exciting new programs to partner with the community and reach kids where they live, learn and grow.
This part-time, salaried, benefits-eligible position offers flexible scheduling options, a funding allowance for continuing education, support from a network of experienced therapists, and the opportunity to advance our vision for Wisconsin kids to be the healthiest in the nation.
Help us build healthier lives and stronger families. Join our team today.
Job summary
Child and family therapists have a variety of duties, including the following:
Assessing, diagnosing and treating children, adults and families with mental or emotional problems
Maintaining positive working relationships with referral sources and community organizations
Developing treatment plans and goals on a quarterly basis
Communicating with client's collateral contacts, such as school personnel, health care providers and family members
Maintaining case files, including progress notes and other required documentation
Completing insurance-authorization paperwork throughout the course of treatment
Providing case consultation and case review with colleagues
Job requirements:
Master's degree in social work or a related field, along with 3,000 hours of post-master's experience – or PhD/PsyD from an accredited program
Wisconsin state licensure to provide clinical services
MA billing provider status or ability to achieve status within one month of hire
Experience in these areas is preferred:

Child welfare or a specialty like trauma, adoption or EMDR
Counseling services to help children and their parents heal from mental, emotional or social issues and experience treating families with complex mental health concerns
How to apply
Click here to access our job application site, and do a keyword search for "child and family therapist."
For more information, call Gretchen at (715) 848-1457.
Contact us
For more information about career opportunities, call us.
(414) 266-2250