Community Nurse Supervisor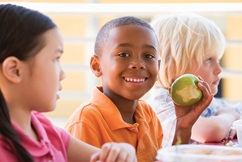 Lead the way to better health
If you're a skilled nurse with strong leadership skills, we want to hear from you.
Children's Wisconsin is looking for a community nurse supervisor to shape a healthier future for over 1,600 kids at locations throughout Milwaukee county. Many of these children have chronic diseases and are at high risk for developing health issues.
Working with medical directors, you'll lead our community nursing program – which provides prevention, care and wellness services for children and families. A primary duty is to coordinate the continuum of care for case management, medical management and services for children covered by our community contracts.
It's a golden opportunity to advance your career while strengthening the fabric of our community.
Put your leadership skills to work as you supervise a team of community nurses. Collaborate with leaders, peers, physicians, community members and families to improve services and impact health policy. And turn your vision for community health into better care – partnering with the region's only independent health care system dedicated solely to the health and well-being of children.
Together, we can help make Wisconsin kids the healthiest in the nation.
Job summary
The community nurse supervisor assumes a variety of duties, including the following:
Provides leadership in clinical practice, orientation, clinical education and professional development for health care staff at community contracted entities
Serves as clinical practice role model in the care of children and families; monitors practice standards and facilitates interventions based on quality improvement, competency and evaluation of data; evaluates clinical practice environment and quality of care
Shares accountability for development of clinical competencies in collaboration with staff and leadership team
Facilitates access, interpretation and use of clinical research to support evidence-based practice and improved patient and system outcomes
Develops and monitors unit operating and personnel budgets
Manages a variety of roles related to consultation and collaboration, professional development and administration (personnel, compliance, program standards and needs, coordination and reporting to program medical director)
Ensures timely clinical assessment and documentation for covered children
Job requirements
Bachelor of science degree in nursing (BSN) with professional knowledge and clinical expertise in family-centered care of infants, children and adolescents
Knowledge of child welfare service delivery and non-profit management at a level normally acquired through three years of progressively responsible experience in community or public health nursing
Excellent communication and interpersonal skills, as well as the ability to think critically
Current license to practice professional nursing in Wisconsin
Supervisory experience, with progressive management responsibility
Current CPR certification - Basic Life Support (BLS) for Healthcare Providers through American Heart or American Red Cross
Valid driver's license, acceptable driving record, personal auto liability insurance coverage and the ability to be insured by the CHHS auto-insurance carrier
Experience in the out-of-home care field, public speaking and group facilitation (preferred)
How to apply
Click here to access our job application site, and do a keyword search for "community nurse supervisor."