Poison Specialist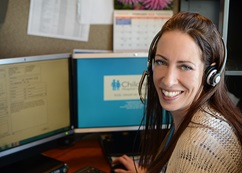 You can make a lifesaving difference
If you're a registered nurse or pharmacist with a drive to save lives and improve health for adults and kids across Wisconsin, here's your golden opportunity.
The Wisconsin Poison Center at Children's Wisconsin is looking for a poison specialist to provide fast, accurate information to residents and health care providers across the state.
Poison specialists triage calls to our 24-hour call line, manage poisoning emergencies, make referrals and provide prevention education. This work directly impacts outcomes, improves public health and expands access by offering a free, confidential source for poison information.
When you work at Children's, the rewards are great. You'll have the opportunity to:
Be part of an organization that values and supports you
Grow your skills with specialized toxicology training
Gain the freedom to work from home after you complete a certification exam in poison information
Make a difference every day. Help Children's provide the best and safest care by giving people vital health information when they need it most.
The Wisconsin Poison Center is a trusted resource for poison information and has served residents and health systems across the state for 43 years. Our toxicology-trained nurses and pharmacists are the first line of defense in a poisoning emergency. They are supported by physicians who are board certified in toxicology.
Job requirements
Candidates for the poison specialist position should have these qualifications:
Wisconsin licensure as a registered nurse or pharmacist
Three years of clinical experience in acute care, ambulatory care in a pediatric setting or previous experience in a poison center certified by the American Association of Poison Control Centers (AAPCC) — preferred
Once hired, you must follow a path to meet AAPCC prerequisites and successfully complete a poison specialist certification exam within three attempts
Job summary
Here are a few of the duties of a poison specialist at the Wisconsin Poison Center:
Triage incoming emergency calls from residents and health care providers in Wisconsin that involve accidental, intentional and occupational toxic exposures
Assess, evaluate and manage poison issues and emergencies for children and adults
Provide treatment, education and prevention recommendations regarding human toxic exposures access our job application site
Use medically approved guidelines and multiple computer software systems to provide fast, accurate poison information
How to apply
Click here to apply and do a keyword search for "poison specialist."