Pediatric dentistry residency program
Residency program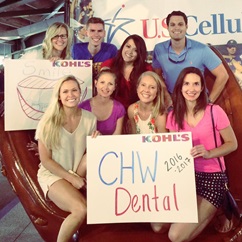 The two-year pediatric dentistry residency program starts after graduation from dental school to immerse dentists in scientific study and clinical experience. The trainee learns advanced diagnostic and surgical procedures, along with child psychology and clinical management, oral pathology, child-related pharmacology, radiology, child development, management of oral/facial trauma, care for patients with special needs, conscious sedation, and general anesthesia.
Children's Wisconsin
Pediatric dental residency program
9000 West Wisconsin Ave., MS 310
Milwaukee, Wisconsin 53226
Phone: (414) 266-6390
Fax: (414) 266-5677
Email: jtab@chw.org
Program length and number of positions
This is a 24-month program commencing on July 1 of each year. Mandatory orientation begins mid-June.
Each year the program will accept four applicants through the PASS/Match Application services. Four residents will be compensated with salary and full benefits as hospital employees.
Program type

Hospital-based certificate program
Application
Applicants must have the following to be considered for admission:
D.D.S. or D.M.D. degree obtained at a CODA accredited dental school
National Boards Part 1
Applicants must:
Submit an application through the Postdoctoral Application Support Service (PASS). Application instructions can be found at the PASS website.
Register with the Postdoctoral Dental Matching Service (MATCH). Information about the MATCH >>
Upon invitation, a personal interview is required. At that time, a high-resolution photo will be requested. No photos are needed before the invitation to interview. Interviews are held in November and December.
The application deadline for PASS is October 1st of the year preceding matriculation. Program deadline is October 2nd.
All correspondence regarding program information and application should be directed to:
Lori Barbeau, D.D.S.
Director, Pediatric Dentistry Residency Program
Medical Director, Children's Dental Center
Children's Wisconsin
MS 310
Milwaukee, Wisconsin 53226
(414) 266-6390
Administrative coordinator email: jtab@chw.org
Description
The residency program in Pediatric Dentistry is a hospital-based clinical program with didactic courses provided through the faculty of Children's Wisconsin, the Medical College of Wisconsin, and Marquette University. The program prides itself in a unique commitment to continuity of care. Each resident follows a specific patient pool during their two years of training and completes comprehensive care for each of those patients.
Patient profile
Children's Dental Center serves the needs of nearly 14,500 unique patients, including more than 34,000 patient visits and is one of the busiest specialty clinics at Children's. Every patient gives residents an opportunity to learn pediatric dentistry in a hands-on environment.
The Children's Dental Center-Main Campus cares for a very diverse patient population. Approximately 65% of patients are healthy children that come from varied socioeconomic, ethnic and cultural backgrounds. The remaining 35% of patients present with health issues and have either a physical/cognitive challenge or medical condition. The resident patient load is significant, but with each encounter, the residents learn about children, families, and ultimately, develop an expertise in delivering dental services to a broad scope of children. The Children's Dental Center receives direct referrals from the Midwest Children's Cancer Center, the Herma Heart Center, the BloodCenter of Wisconsin, the Child Protection Center, the Emergency Department/Trauma Center, and numerous other departments and providers within the hospital.
The Children's Dental Center-Downtown is located in the immediate central city of Milwaukee and the Children's Dental Center at the Next Door Foundation serves the north side of Milwaukee. The Next Door Foundation clinic is associated with a primary care medical clinic serving the children living in the surrounding areas. Most of these children and families come from lower socioeconomic backgrounds. The program emphasizes resident community involvement and endeavors to promote the resident's understanding of poverty and the barriers families with limited financial means encounter in their daily lives.
Community Service: The program is directly involved with Give Kids a Smile annually. Residents actively volunteer with other organizations, such as Special Olympics and the Hunger Task Force. Residents also may provide educational seminars to area dentists and medical staffs regarding topics in pediatric dentistry.
Curriculum
Courses and seminars
The program offers a wide variety of courses and seminars to enhance the resident's complete education. Courses and seminars include: Craniofacial Growth and Development, Board Preparation Review, Pulp Therapy in Pediatric Dentistry, Pediatric Dental Trauma, Pediatric Dental Infections, Pediatric Medicine, Preventive Concepts in Pediatric Dentistry, Practice Management, Transition of the Human Dentition, Cephalometrics, Oral Pathology, Orthodontic Diagnosis and Treatment Planning, Literature Review and Concepts in Pediatric Dentistry (Behavior Guidance, Complex Special Needs, Case Reviews). In addition, numerous lectures are provided within the hospital including Grand Rounds, Pediatric Trauma Rounds and Craniofacial Anomaly Rounds. Residents are given time to attend these lectures with their medical colleagues.
Research
All residents must complete an original research project. Each resident is paired with a faculty member to serve as a research mentor. Projects are presented to the entire Children's Dental Center staff at the annual Resident Research Day in June.
Poster presentation
All residents are expected to present a poster at a major meeting during their 2 year program.
American Board of Pediatric Dentistry (ABPD) Certification
All residents are expected to pass the Qualifying Exam of the ABPD prior to completion of the program. In addition, mock oral boards are given with an experienced ABPD examiner to help the resident prepare for the Oral Exam portion of the ABPD Certification process.
Teaching
Residents teach pre-doctoral students at Marquette University's School of Dentistry in the pediatric clinic and also provide a lecture for the second year pre-doctoral students. Each resident will also lecture a group of medical resident colleagues on topics in oral health and pediatric dentistry.
CLINICAL TRAINING
Scope
Residents receive training in the full scope of advanced pediatric dental techniques including preventive dentistry, restorative procedures, behavior guidance, sedation, pulp therapy, oral pathology, hospital dentistry including OR procedures, pediatric medicine, and oral/facial trauma, as well as training in interceptive and select comprehensive orthodontics. The program includes extensive training in dentistry for the medically compromised child, as well as the physically and cognitively challenged patient. Residents are expected to expand their knowledge of pediatrics and integrate dental diagnosis and treatment with the comprehensive medical needs of their patients.
Hospital training
The hospital experience for the resident is extensive. Operating room cases, inpatient consultations, management of oral/facial infections and traumatic injuries, and consultations with medical departments are a part of the resident's daily life.
Rotations
Throughout the residency, various rotations are offered including pediatric primary care (1 week), anesthesiology (4 weeks), community healthcare (2 weeks), and specialty medicine, including: otolaryngology, cardiology, speech language pathology, child development and child protective services (1 week). Residents also staff various interdisciplinary teams, such as Cleft Lip and Palate team and the Leukemia/Lymphoma team. They attend regularly scheduled lectures and various department seminars with the pediatric medical staff.
Emergency on-call
The residents provide 24-hour-7-days/week on-call emergency care. Emergency call is done via pager and is rotated daily. A 1st and 2nd year resident are paired on-call so as to share information and provide assistance for procedures. Each resident will be on-call approximately 1 week/month through the 2 years of training.
Program stipend and tuition
Resident Stipends:
First Year: $47,258
Second Year: $48,818
Chief Resident: $51,410
Upon approval of the program director at the end of 1st year, weekend moonlighting during 2nd year is an option at various dental practices in the community.
Hospital Employee Benefits: malpractice insurance, short-term disability insurance, life insurance, health insurance, 10 days paid vacation per year, 6-8 paid holidays per year, and 8 paid sick days (total).
Residents are also given 8 education days beyond their regular vacation days to attend educational conferences and meetings. Major meetings that residents will attend include the American Academy of Pediatric Dentistry (AAPD) Annual Session during the second year of training, the AAPD Sedation Course, and the AAPD Comprehensive Review of Pediatric Dentistry Course or the AAPD Qualifying Exam Prep Course. Attendance at the required courses is subsidized approximately 80%. Additional meetings and courses may be attended upon approval of the Program Director. Lectures and seminars presented at Children's are tuition-free or eligible for full tuition reimbursement.
Facilities
Children's is located on the Milwaukee Regional Medical Campus and is devoted solely to the care and treatment of sick and injured children. Services include primary, secondary and tertiary care to children throughout Wisconsin and beyond. Children's has approximately 300 medical/surgical beds. The hospital employs approximately 2,800 full, part-time, and casual employees and maintains a Medical/Dental staff of approximately 1000 individuals. With approximately 24,000 admissions annually and over 275,000 outpatient visits each year, Children's Hospital and Health System is a regional leader providing treatment and research for various childhood illnesses and diseases.
The Children's Dental Center has one primary and two satellite outpatient clinics where residents practice. The Children's Dental Center-Main Campus clinic is a 6,400-square foot, 13-chair clinic in the Children's Clinics Building, which is linked to the hospital via a skywalk. The Children's Dental Center-Downtown facility is an eight-chair clinic that is located in the central city of Milwaukee. The Next Door Clinic is a five chair clinic that is located on the Next Door Foundation Campus. As a community clinic, the center not only serves the children at Next Door, but also children from the surrounding community.
All clinics are furnished with up-to-date equipment and materials, including digital radiography and an electronic dental record. The hospital has 15 operating rooms which may be used for dental cases. Two of these rooms are located in the day surgery area where a vast majority of dental general anesthesia cases are performed. Mobile operating and supply carts along with a mobile X-ray machine are available for OR cases.
Admission requirements
Applicants must have the following items completed and/or submitted for consideration:
Graduate from a CODA accredited dental school
Completed PASS (Postdoctoral Application Support Service) application
Register with the National Matching Service
Personal interview upon invitation. Upon interview invitation, a high-resolution photo (.jpeg file) must be sent directly to the program director, Lori Barbeau, DDS, via email to jtab@chw.org
Program strengths
Patient volume: Large, diverse patient population with a significant portion of children with special needs. Residents have a very active patient schedule exposing them to a wide range of pediatric dental procedures and diagnostically challenging cases.
Continuity of Care: The entire dental department is strongly committed to ensuring that children are seen by the same provider for the duration of resident training. Residents are scheduled with the same patients consistently and can build relationships with patients and families while closely following their treatment outcomes.
Staff: Attending faculty and supporting staff with long-term dedication to resident education. All faculty see their own patients every week in clinic alongside residents, which allows for daily mentoring and guidance. Residents are always supported by a dental assistant except certain elective orthodontic visits.
Behavior guidance: Extensive training and experience in the understanding and guidance of child behavior utilizing behavior guidance techniques including non-pharmacological methods, sedation, and general anesthesia. Residents complete more than 50 cases of sedation using midazolam (oral and intranasal), hydroxyzine, morphine, valium, and lorazepam.
Orthodontics: Residents successfully complete 6+ cases of full brackets with orthopedic appliances in addition to various fixed and removable appliance cases. Weekly didactic training and strong clinical supervision provided by a board-certified orthodontist.
Trauma/Emergency care: As a Level I trauma center, the emergency room provides a large and diverse group of patients requiring treatment of dental-facial trauma.
Didactics: Comprehensive seminar/lecture curriculum, including hospital lectures such as Grand Rounds and Craniofacial Conference with medical residents and fellows.
Facilities: Esthetic, modern, well-maintained facilities with ample natural lighting.
High quality residents from diverse backgrounds.
Externship opportunity
Children's Wisconsin (CW) Pediatric Dental Residency Program offers a well-rounded externship experience for interested applicants. Time spent at CW may include experiences shadowing in the dental clinic including our special needs population, operating room, minimal and moderate sedation cases, craniofacial team, orthodontic procedures, lectures, and on-call services with the current CW residents. The externship is limited to Class of 2021 dental students or practicing dentists seriously interested in applying in 2020 for the 2021-2023 resident class. Minimum dental school GPA is 3.4 for externship candidates (students at pass/fail dental schools are also welcome to submit a CV for consideration).
If you are ready to request an externship, please submit a resume that notes a current GPA, or final dental school GPA for graduated dentists not currently in advanced training to Dr. Macaire Thiel by email- MThiel@chw.org, on or after January 1, 2020. Once qualifications are confirmed and an externship is offered, applicants may request an externship date from the list of dates still available. About twenty externship experiences (three-day or five-day experiences) are offered from March-June, August, and September 2020. They are reserved by qualified candidates on a first-come first-served basis.
Program faculty
Full-time
Lori R. Barbeau, D.D.S., Medical Director, Program Director
Jamie Bass, D.D.S.**
Carli DiGioia, D.M.D.**
Colleen Greene, D.M.D. M.P.H.**
Jonathan Hanna, D.D.S.
Danielle Messer, D.D.S.**
Macaire Thiel, D.D.S.
Part-time
Michael Melugin, D.D.S., M.S., Orthodontics (ABO board-certified) & Oral Surgery (ABOMS board-certified)
Amy Getz-Niedziela, D.D.S.**
Adjunct Faculty
Steven Chybowski, D.D.S.
Pamela Hanson, D.D.S., M.S. (ABO board-certified)
Cliff Hartmann, D.D.S.**
Brian Hodgson, D.D.S.**
Alexandra Korte, D.D.S. **
Nicole Simonetti, D.D.S.**
Grace Wenham, D.D.S.**
Chad Zambon, D.D.S.
**ABPD board-certified
School profile
Program type: 
Hospital-based certificate

Program director: 
Full-time 
Program faculty: 
5 Full-time
7 Part-time
10 Board-certified

Program length: 
24 Total months
July 1 (Mid-June orientation) Start date

Program accreditation: 
Approved 
State licensure: 
Not required 
Number of entering positions: 
4 
Tuition In-state: 
none First year
Tuition Out-of-state: 
none First year
Salary/Stipend: 
47,258 First year
48,818 Second year 
Application: 
October 1 deadline 
Participant in National
Matching Service:

Yes 
Participant in PASS: 
Yes 
Only US citizens from ADA
accredited dental schools
considered:

No 
US citizens from foreign dental
schools considered:

No 
Non-US citizens from ADA
accredited dental schools
considered:

Yes 
Non-US citizens from foreign
dental schools considered:

No 
Acceptance applicant ratio: 
4:140 
Clinic experience: 
Orthodontics
Hospital rotations
General anesthesia
Emergency call
Operating room
Oral surgery
Infant oral health
Medically compromised
Craniofacial Disorders
Minimal and moderate sedations
Special healthcare needs
Behavior guidance

Didactic experience: 
Seminars
Literature review
Courses
Case conferences

Research requirement: 
Thesis
Data collection project

Teaching experience:
Yes Clinic half days
Yes Lecture/Presentations

Facilities: 
13 (plus 8 at satellite clinics)  Chair/Operatories
7 Clinic receptionists
15 Dental assistants
4 Dental hygienists