Patient stories
At Children's Wisconsin, we treat our patients like we'd treat a member of our own family. Below are just a few stories about how Children's helped treat patients with craniofacial disorders.
Mia's story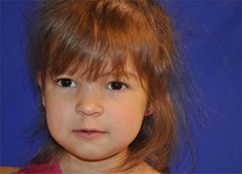 When Mia was just 2 weeks old, her pediatrician was concerned about the shape of her head. Mia's head was long and narrow. The back of her head and forehead were becoming more prominent. She was referred to Children's Craniofacial Program.
Plastic surgeon John Jensen, M.D., confirmed a diagnosis of sagittal synostosis, a condition in which the bones of the skull fuse together too early.
Nora's story
Nora Raebel isn't even 2 yet, but her family history with Dr. Arlen Denny goes well beyond her years.
Nora's mother, Katie, also was a patient of Dr. Denny's. She first saw him when she was just 15, newly relocated from Denver, and needed follow-up care for her cleft lip and cleft palate. Still a teenager just going with the flow, Katie eventually grew to truly appreciate the care she got at Children's – and from Dr. Denny, in particular – which continued into her 20s. When Nora was also born with a cleft, it made for a bittersweet reunion, but Katie knew her daughter was going to be in good hands. Read Nora's story >>
To make an appointment in the Cleft Lip and Palate Program, Call:
(414) 266-2575
For all other appointments, call Central Scheduling.
(414) 607-5280
Toll-free (877) 607-5280