Mia's story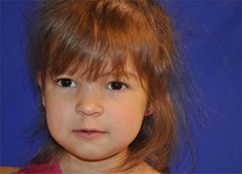 When Mia was just 2 weeks old, her pediatrician was concerned about the shape of her head. Mia's head was long and narrow. The back of her head and forehead were becoming more prominent. She was referred to Children's Craniofacial Program.
Plastic surgeon John Jensen, M.D., confirmed a diagnosis of sagittal synostosis, a condition in which the bones of the skull fuse together too early.
A newborn's skull is made up of seven pieces of bone that are connected to each other with soft tissue, called "sutures." This gives the baby's head some flexibility as it travels through the birth canal and allows for rapid brain growth that occurs in the first two years of life. The soft tissue is replaced gradually with bone as the child grows, and the skull typically is completely hardened by the late teen years.
With sagittal synostosis, the suture that runs from the top center of the skull toward the back of the head hardens in infancy. Left untreated, it may cause developmental problems or other serious consequences.
"It was very scary," said Mia's mother, Dajen. "We never had any major health issues with my other kids, so it was very overwhelming."
At age 6 months, Mia had surgery to expand the bones of her skull.
Though it was an overwhelming experience for her parents, Dajen says Dr. Jensen was reassuring throughout Mia's treatment. "Today, Mia is a happy four-year-old," Dajen said. "She enjoys playing with her brother and sister, school, and dance classes. We were extremely happy from start to finish. Everybody who cared for Mia was accommodating, understanding-just wonderful."
To make an appointment in the Cleft Lip and Palate Program, Call:
(414) 266-2575
For all other appointments, call Central Scheduling.
(414) 607-5280
Toll-free (877) 607-5280