Nora's story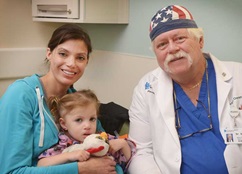 Nora Raebel isn't even 2 yet, but her family history with Dr. Arlen Denny goes well beyond her years.
Nora's mother, Katie, also was a patient of Dr. Denny's. She first saw him when she was just 15, newly relocated from Denver, and needed follow-up care for her cleft lip and cleft palate. Still a teenager just going with the flow, Katie eventually grew to truly appreciate the care she got at Children's – and from Dr. Denny, in particular – which continued into her 20s. When Nora was also born with a cleft, it made for a bittersweet reunion, but Katie knew her daughter was going to be in good hands.
"I just trust him," Katie said of Dr. Denny. "He has experience, and it just goes back to having that relationship. I had several major surgeries with him, and so there's just a lot of trust that goes into that."
Katie cited a video on the Children's YouTube channel featuring Dr. Denny, where he says a person's face is his or her identity. "That's very important and totally true," she said. "Everybody looks at each other when they're talking. When you have some sort of facial deformity, whether it's a cleft or something else, it's hard because you're just constantly wondering, "Are they looking at me?" "Are they looking at my lip?" You get distracted. It means a lot to me that Dr. Denny really understands that."
More than 90 percent of cleft lip and cleft palate procedures in Wisconsin are handled by Dr. Denny and the team at Children's. In addition to benefiting from Dr. Denny's surgical expertise, patients also can see specialists from radiology, dermatology, ophthalmology, neurology, anesthesia, otolaryngology, genetics, speech, feeding and other areas. These specialists work together to coordinate care for each patient, making for a much more effective and efficient treatment.
The care can even begin before the baby is born. Katie and her husband, Dan, learned prenatally that Nora would have a cleft and met with the craniofacial team at Children's to develop a plan of care.
In his decades of working with patients with cleft, Dr. Denny said there have only been a handful of occasions when he has seen multiple generations of the same family. When he first met Katie, he recalled noticing a lot of opportunity to improve upon the care she had been receiving. After several surgical revisions, he was happy to see her succeed and start her life as an adult. "Now with Nora," he said, "we're back in the family."
Katie and Dan recently brought Nora to Children's for her fourth surgery. The hope is it will be the last palate procedure she will need, although she will still need lip surgeries and other care as she grows.
"It's a big unknown, especially in a 2-year-old, because the growth and development of the child continues up till the age of 18," Dr. Denny said. "We're sort of on call for each one of these patients for 15 to 18 years to make sure that at the age of maturity, structurally and appearance-wise, everything is good. We'll be taking care of Nora for a long time."
Unlike his wife, Dan had no prior experience with cleft or Dr. Denny, but he has been completely won over.
"He takes really good care of his patients," Dan said as he and Katie waited through the two-hour procedure. "Before surgery, he comes in for a few minutes. He'll come in after and tell us how things went. He's never been anything but super nice and kind to us."
Katie added, "Some doctors can definitely make you feel rushed, and you can sense the ego. You don't get that with Dr. Denny. He always takes his time with you, and is willing to answer all your questions. You just never feel that he's like, "OK, come on, I've got to get to my next patient."
As for Nora, she got through surgery just fine and is back to being an independent toddler ready for her next adventure.
To make an appointment in the Cleft Lip and Palate Program, call:
(414) 266-2575
For all other appointments, call Central Scheduling.
(414) 607-5280
Toll-free (877) 607-5280