Community resources
AED resources
Wisconsin Masonic Foundation and Masonic Lodge Partnership
Since inception of Project ADAM, we have worked closely with Freemasons and their Lodges across the state to fund AED equipment projects in schools. Using a matching grant process:.
An interested Masonic Lodge supports a school by raising funds to cover half the cost of an AED unit,
Eligible projects are completely funded by the Wisconsin Masonic Foundation, up to $800,
A check is presented by the Lodge to the school for the AED unit.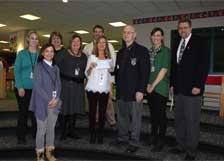 In 2019, we hit the $1 Million Contribution Mark of the Wisconsin Masonic Lodges and Masonic Foundation placing AEDs in Wisconsin schools since partnership began in 1999!
How to get started:
Got AED partnership:
Visit GotAED to set up a crowdfunding campaign. GotAED is dedicated to getting AEDs in places where kids learn and play. In minutes, your campaign will be up and you can begin notifying your network. Once you reach your goal, we'll ship an AED and cabinet to your doorstep. If you have any questions, contact Jill at jill@simonsheart.org.
CPR Resources
All community members, school staff, parents and coaches should learn CPR and how to use an AED.