Failure to thrive
Updated by: Dr. Praveen Goday
Updated on: October 2020
Causes
Most commonly is due to inadequate calorie intake; Other causes: malabsorption, etc account for <5% of FTT cases
Diagnosis/symptom
Signs and symptoms:
Weight-for-length (or BMI) < 3rd percentile (CDC growth chart) or 2nd percentile (WHO growth chart)
Poor or no weight gain

Over a period of time that varies according to the age of the child. In general, the younger the child, the shorter the interval where there is little or no weight gain

These should be done along with:

Assessment of parental size / growth
Correction for prematurity (where applicable)
Referring provider's initial evaluation and management:
Diagnosis: Initial interventions in a child with failure to thrive
Establish mealtime routine
Add calories
Meals and snacks offered every 3 hourly
All meals and snacks should be offered in a high chair/at the table
Minimize distractions
Avoid force feeding
Grazing in between meal and snack times should be eliminated
NO JUICE
Limit meals to 30 minutes
Most children with FTT do not need labs:
Labs are needed if:
Significant FTT, FTT not due to inadequate calorie intake
Common labs:
CBC, ESR
Metabolic panel
Anti-TTG IgA, serum IgA level
If less than 2 years old: DPG
When to initiate referral/ consider refer to GI Clinic:
↓ weight, ↓ height - Malnutrition
Normal weight, ↓ height - Endocrine
Normal weight, ↓ height, dysmorphism - Genetics/Endocrine
SGA patients without catch-up growth can be referred to endocrine clinic for possible growth hormone treatment
Nutrition Clinic: Contact Dr Praveen Goday at pgoday@mcw.edu for FTT patients who are not progressing according to plan.
What can referring provider send to GI Clinic?
Using Epic referral form, please complete:
What is the patient's chief complaint
Describe details
Pertinent past medical history
Abnormal imaging findings
What is the key question you want addressed
Please ensure we have growth charts
If you have obtained labs make sure that we have access to them
Not using Epic referral form:
Please fax 414-266-4966 the above information and include:
Chief complaint, onset, frequency
Recent progress notes
Labs and imaging results
Other Diagnoses
Office Number: (414) 607-5280
Specialist's workup will likely include:
After referral to GI Clinic:
Most children with FTT do not need labs
Labs
Significant FTT
FTT not due to inadequate calorie intake
Common labs
CBC, ESR
Metabolic panel, electrolytes
Anti-TTG IgA, serum IgA level
Fecal elastase
Urinalysis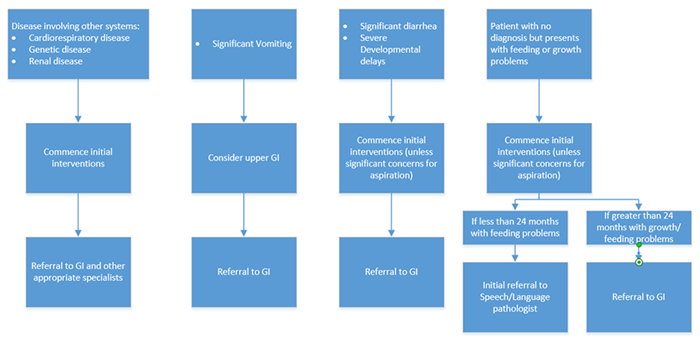 Guide to high-calorie beverages
Resources for increasing calories:
Provider resources
Indications for use of pediatric formulas and oral supplements
Recipes for fortifying breast milk
Infant and pediatric powder formula recipes
Weight velocity charts
Patient resources
High calorie drinks
High calorie diet
ABCs of boosting calories
High calorie infant diet
3 scoops powder + 5 ounces water (Add water to bottle first, and then add powder)