Failure to thrive
Updated by: Dr. Praveen Goday
Updated on: 3/9/2017
Diagnosis/symptom
Signs and symptoms
Weight-for-length (or BMI) < 3rd percentile (CDC growth chart) or 2nd percentile (WHO growth chart)
Poor or no weight gain

Over a period of time that varies according to the age of the child. In general, the younger the child, the shorter the interval where there is little or no weight gain

Significant downtrend in weight percentiles
These should be done along with:

Assessment of parental size / growth
Correction for prematurity (where applicable)
Causes
Most commonly is due to inadequate calorie intake; Other causes: malabsorption, etc. account for <5% of FTT cases.
Referring provider's initial evaluation and management:
Diagnosis:
*See gestational age chart and guide to high-calorie beverages below

Initial interventions in a child with failure to thrive
Establish Mealtime Routine
Meals and snacks offered every 3 hourly
Ideally, all meals and snacks should be offered in a high chair/at the table
Minimize distractions
Avoid force feeding
Grazing in between meal and snack times should be eliminated
NO JUICE
Limit meals to 30 minutes
*Additional resources below
When to initiate referral/ consider refer to GI Clinic:
↓ weight, ↓ height - Malnutrition
Normal weight, ↓ height - Endocrine
Normal weight, ↓ height, dysmorphism - Genetics/Endocrine
SGA patients without catch-up growth can be referred to endocrine clinic for possible growth hormone treatment
Nutrition Clinic: Contact Dr Praveen Goday at pgoday@mcw.edu for FTT patients who are not progressing according to plan.
What can referring provider send to GI Clinic?
1. Using Epic
Please complete the external referral order
In order to help triage our patients and maximize the visit, the following information would be helpful include with your referral order:
Urgency of the referral
What is the key question you would like answered?
Note: Our office will call to schedule the appointment with the patient.

2. Not using Epic external referral order:
In order to help triage our patients maximize the visit time, please fax the above information to (414) 607-5288
It would also be helpful to include:
Chief complaint, onset, frequency
Recent progress notes
Labs and imaging results
Other Diagnoses
Office notes with medications tried/failed in the past and any lab work that may have been obtained regarding this patient's problems.
Specialist's workup will likely include:
After referral to GI Clinic:
*Most children with FTT do not need labs
Labs:
Significant FTT
FTT not due to inadequate calorie intake
Common labs
:CBC, ESR
Metabolic panel, electrolytes
Anti-TTG IgA, serum IgA level
Fecal elastase
Urinalysis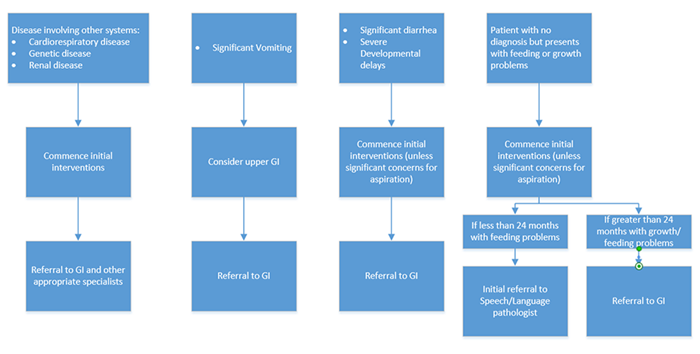 If a child is <10th percentile for gestational age then child is SGA
Female
10th %ile
Male
10th %ile
GA
Grams
Pounds/ounces
GA
Grams
Pounds/ounces
23
477
1 lb 0.8 oz
23

509

1 lb 2.0 oz
24
524
1 lb 2.5 oz
24
561
1 lb 3.8 oz
25
584
1 lb 4.6 oz
25
626
1 lb 6.1 oz
26
645
1 lb 6.8 oz
26
704
1 lb 8.8 oz
27
719
1 lb 9.4 oz
27
789
1 lb 11.8 oz
28
807
1 lb 12.5 oz
28
884
1 lb 15.2 oz
29
915
2 lb 0.3 oz
29
988
2 lb 2.9 oz
30
1052
2 lb 5.1 oz
30
1114
2 lb 7.3 oz
31
1196
2 lb 10.2 oz
31
1267
2 lb 12.7 oz
32
1352
2 lb 15.7 oz
32
1433
3 lb 2.5 oz
33
1545
3 lb 6.5 oz
33
1625
3 lb 9.3 oz
34
1730
3 lb 13 oz
34
1810
3 lb 15.8 oz
35
1869
4 lb 1.9 oz
35
1980
4 lb 5.8 oz
36
2028
4 lb 7.5 oz
36
2170
4 lb. 12.5 oz
37
2260
4 lb 15.7 oz
37
2401
5 lb 4.7 oz
38
2526
5 lb 9.1 oz
38
2652
5 lb 13.5 oz
39
2724
6 lb 0.1 oz
39
2833
6 lb 3.9 oz
40
2855
6 lb 4.7 oz
40
2950
6 lb 8.1 oz
41
2933
6 lb 7.5 oz
41
3039
6 lb 11.2 oz
Mid-parental height
To the average of the parents heights

Add 2.5" if male
Subtract 2.5" if female

This is the median height expected for that child

8.5 cm on either side of the median will give you 5-95%iles for that child
Guide to high-calorie beverages
Fortifying breast milk
24-26 calorie/ounce breast milk:

Add 1 tsp infant formula + 2.5 oz expressed breast milk
(Calorie level varies with type of formula used)
Fortifying infant formulas
24 calorie/ounce recipe:

*For infant formulas EXCEPT premature formulas (Neosure, Enfacare), Neocate, and Neocate Jr.
3 scoops powder + 5 ounces water (Add water to bottle first, and then add powder)

27 calorie/ounce recipe:

*For infant formulas EXCEPT premature formulas (Neosure, Enfacare), Neocate, and Neocate Jr.
5 scoops powder + 7 ounces water (Add water to bottle first, and then add powder)

30 calorie/ounce recipe:

*For infant formulas EXCEPT premature formulas (Neosure, Enfacare), Neocate, and Neocate Jr.
4 scoops powder + 5 ounces water (Add water to bottle first, and then add powder)
Toddler beverages
Pediasure ®, Boost ®, Nutren Jr. ®
Carnation Instant Breakfast ® w/ whole milk

30 calories/ounce
Cheaper than Pediasure ($0.50 / packet)

7 oz Whole milk with 1 oz heavy whipping cream

30 calories/ounce and cheapest