Massage therapy
Therapeutic massage is a research-based integrative healthcare which is increasingly utilized in pediatric hospitals for children with special and medically complex healthcare needs. The physical, psychological, and emotional benefits of touch for pediatric and adult patients are well documented in published research studies and the evidence that massage provides global benefits to one's health far outweighs any evidence of negative effects.
Reasons to consult massage therapist
Improve mood and sleep patterns
Improve muscle tone, joint mobility, and range of motion
Improve respiratory and GI function
Decrease muscular tension/pain
Decrease stress and anxiety
Assists in injury, accident, surgery recovery
Improve parent-infant interaction/bonding
Ages: Birth to adult
Days offered: Mondays and Thursdays
Units covered: All inpatient care units and MACC Day Hospital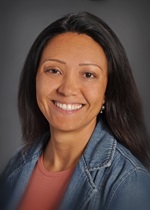 Ronnie Jean Artero Frederick, LMT, CPMT, S4OM
Contact info:
CreativeArtsTherapies@chw.org
Resources for becoming a massage therapist can be found here:
Go to MyChart
If you are a registered user or have an access code you want to use, go to MyChart.