Tracheal Disorders and Reconstruction Program
As one of only five pediatric tracheal surgery programs in the United States, families come from all over the country to have their child treated by the Tracheal Disorders and Reconstruction Program at the Herma Heart Institute at Children's Wisconsin.  
What makes our program unique is our specialization in tracheal surgery for the most complex disorders. We are also able to safely transport patients from all over the United States to our hospital with our air ECMO transportation services. Prior to air ECMO, only children born within a three- to four-hour radius of Children's Wisconsin could be transported to the hospital. Today, we can receive children from all over the country, including Alaska, Hawaii and Puerto Rico. 
Most trachea diseases and disorders do not require surgery and can be treated with a variety of therapies available at Children's Wisconsin. In rare cases, complex tracheal surgery might be required to alleviate symptoms associated with tracheal disorders. Our team specializes in tracheal surgery and regularly performs surgical techniques that were developed or improved upon at Children's. Our tracheal team often speaks internationally about these groundbreaking surgical techniques.
Learn more about life-changing tracheal surgery techniques developed at Children's Wisconsin.
Tracheal Program highlights
In addition to being a national leader in the treatment and diagnosis of complex tracheal disorders, the tracheal team also offers:
A cardiac intensive care unit where children receive the highest level of care possible by pediatric-trained nurses and physicians.
The support of our world-class Herma Heart Institute, one of the leaders in cardiothoracic surgery in the country. Our tracheal specialists trained at the Great Ormond Street Hospital in England, currently the largest center in the world for tracheal surgeries.
Follow-up care by the Children's Aerodigestive Center, where patients receive regular tests and check-ups to spot problems as quickly as possible.
Genetic research to help determine the root cause of tracheal disorders in children.
Quality of life studies to ensure children develop to their fullest potential.
Common tracheal conditions treated
The Tracheal Disorders team can treat the full range of tracheal disorders from the simple to the complex. The team most commonly treats the following disorders:
Tracheal/Bronchial stenosis
Tracheal/Bronchial malacia
Tracheal fistula
Complete tracheal rings
See the full list of conditions treated
Tracheal tests, treatments and surgery
To treat the full range of pediatric tracheal disorders from simple to complex, Children's offers the following comprehensive tests, treatments and services:
Diagnostic tests
When children are referred to the Tracheal Disorders Program at Children's, they have often been diagnosed with a congenital (present at birth) condition. In other situations, parents or caregivers notice some symptoms of a tracheal problem when the child is at home, such as shortness of breath or wheezing.
In order to fully understand your child's condition, the tracheal disorders team uses an array of powerful diagnostic tools. These tools aid clinical observation and are specific to tracheal disorders:
Further airway tests may need to be performed, and these will be done in conjunction with the Aerodigestive Center at Children's.
Tracheal surgery
In rare instances, complex tracheal surgery may be required to alleviate symptoms associated with your child's tracheal disorder. The Tracheal Disorders Program at Children's houses one of only five pediatric tracheal surgery programs in the nation.
The tracheal surgeons within the Tracheal Disorders Program are innovators in the field and have developed many of the surgical techniques that are used across the country. Some of the more common surgeries our team performs include:
Tracheal resection
Airway reconstruction
Tracheopexy
Slide tracheoplasty
Learn more about the innovative tracheal surgery procedures performed at Children's.
Ongoing care for tracheal disorders
Treatment, including surgery, is only the first step. The team at Children's understands that close follow-up care is necessary in all cases of tracheal disorders. The team will follow the progress of your child after treatment using the following tools:
Patients with congenital heart defects
Forty percent of all patients with a tracheal disorder will also have some type of congenital heart defect. Because of this, a tracheal team needs to work closely with cardiologists and cardiothoracic surgeons. At Children's, the Tracheal Disorders and Reconstruction Program has the support of the nationally regarded Herma Heart Institute. The combined expertise of the Institute and the Tracheal Disorders Reconstruction team means the best possible care and outcomes for your child.
The Tracheal Disorders and Reconstruction team
The trachea is an anatomical crossroads for several major bodily systems. Disorders of the trachea require the expertise of many different types of doctors, clinicians and nurses. To treat all sides of tracheal disorders, our program is made up of experts from several specialties, including:
Anesthesiology
Cardiology
Cardiothoracic surgery
Critical care
Neonatology
Otolaryngology (ear, nose and throat)
Pediatric cardiac and general surgery
Pulmonology
Additionally, the program has two dedicated nurses that care for tracheostomy patients after surgery.
Born without a trachea, baby's life saved by Children's Wisconsin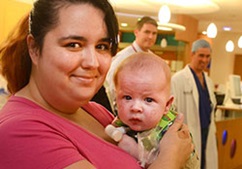 Never before in the United States has a baby survived when born without a trachea. That changed earlier this year when a team of surgeons performed an innovative series of procedures they had never done before — saving the life of Thomas Richards.
Learn More