Connected for Kids: Partnering to make a greater impact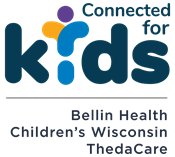 At Children's Wisconsin, our vision is that Wisconsin kids will be the healthiest in the nation. But we know we can't achieve that vision alone. That's why we're proud to be a partner in Connected for Kids, a pediatric joint venture between Children's Wisconsin, Bellin Health and ThedaCare.
Together, we're making a greater impact in the lives of children and teens by connecting families to the highest level of pediatric health and wellness services. Through our partnership in Connected for Kids, Children's Wisconsin is able to improve the health and well-being of more children and teens in Northeast and Central Wisconsin and the Upper Peninsula of Michigan.
Learn about our partnership in Connected for Kids
What this partnership means for patients and their families
The goal of Connected for Kids is to provide a better patient experience that saves families valuable time, energy and cost, allowing them to focus on what matters most — supporting their loved ones.
Children and families will continue to see the doctors and care providers they know and trust at Children's Wisconsin, Bellin Health and ThedaCare. But now through our partnership in Connected for Kids, we're able to:
Bring additional pediatric services and specialists to the region to expand access to local, close-to-home care.
Reduce the need for children and their families to travel outside the region when a higher level of care is needed.
Apply consistent, best-practice standards of care across each organization in the region.
Provide tailored child and adolescent services that meet community-specific needs.
Deliver better and more efficient care through seamless coordination across each organization.