Nancy Korom, MSN, RN, NEA-BC, FAAN
Chief Nursing Officer and Vice President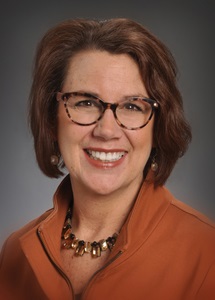 Nancy Korom has served as vice president and chief nursing officer for Children's Wisconsin since 1997. Nancy is responsible for overseeing the standard of nursing care across the system and is passionate about Children's efforts to ensure the best and safest care for kids and their families. Her work has played a critical role in the designation of Children's as a Magnet recognized organization since 2004.

Nancy earned her Bachelor of Science in Nursing from University of Wisconsin-Oshkosh, and her Master of Science in Nursing Administration from Marquette University-Milwaukee.

Always focused on improving the lives and health of children, Nancy has served as a board member and president of the Juvenile Diabetes Research Foundation for Southeast Wisconsin. She also contributes to the community through her volunteer work at the American Lung Association, where she served as a board member and as president when Wisconsin went smoke free. Currently, Nancy serves on the Board of Regents for Concordia University-Wisconsin and Ann Arbor. She also serves on the advisory board for the Milwaukee School of Engineering, the advisory board for Concordia Univerisity-Wiscosnin, and the UW-Oshkosh School of Nursing Board of Visitors.

Nancy was named the Sophie Schroeder Endowed Chair for Nursing in 1999 and was inducted as a Fellow in the American Academy of Nursing in 2013.