Careers
How can we help you today?
Children's Wisconsin is committed to providing our staff with tools and resources to support our employees goals.
Residencies and fellowships
Our programs are structured to provide fellows and residents with a rich training experience and prepare trainees for careers in pediatrics.
With education as part of our Children's mission, we recognize the importance of student learning through clinical experiences.
Children's is part of an academic environment, serving as one of the academic partners of the Medical College of Wisconsin.
Clinical student placements
Hundreds of students complete healthcare-related educational placements at Children's Wisconsin each year as part of their degree programs.
Volunteer at Children's Wisconsin and join a team committed to making Wisconsin's kids, and all of the kids we serve, the healthiest in the nation.
With our mission, vision, and values to guide us, we are committed to making Wisconsin kids, and all of the kids we serve, the healthiest in the nation.
Children's Wisconsin values diversity in the workplace and those efforts that influence and enhance the well-being of children. We believe a spirit of diversity and inclusivity provides us with new perspectives and a better understanding of the world around us. It supports efforts to seek out the best and brightest talent resulting in enhancing the care we provide.
Children's Wisconsin is an equal opportunity / affirmative action employer. We are committed to creating a diverse and inclusive environment for all employees. We treat everyone with dignity, respect, and fairness. We do not discriminate against any person on the basis of race, color, religion, sex, gender, gender identity/and or expression, sexual orientation, national origin, age, disability, veteran status, or any other status or condition protected by the law.
Total Rewards is our investment in you. We believe in rewarding our employees for their good work and the impact they have on the lives of children and families. Learn more about our comprehensive Total Rewards (benefits) program- our commitment to work-life balance and more.
Who we hire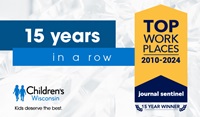 At Children's Wisconsin, we're seeking individuals who are passionate about kids and child advocacy to help us achieve our vision of having the healthiest kids in the country.
Children's Wisconsin is hiring nurses, social workers and other health care professionals, as well as individuals to support corporate, office and service functions.
We strive to be at our best and use our values to guide us along the way. When we are at our best, patients, clients, members, families and all of the people we serve receive the best and safest care. If you want to work for an organization that encourages you to be at your best, start by exploring careers and job opportunities at Children's Wisconsin. 
---

Check out what a rewarding and fun career looks like at Children's Wisconsin by visiting our "Life At CW" Instagram page!