Because we all want our children to thrive, Children's Wisconsin offers a variety of programs to help support parents and caregivers. Many of these programs are offered in partnership with local agencies and organizations. Many programs are available in both English and Spanish. The Children's Wisconsin Janesville office offers the following:
Rock County Family Resource Center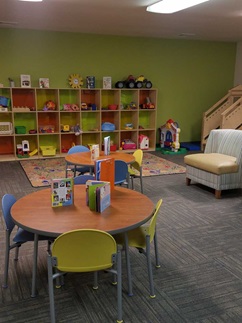 Family resource centers offer a place for parents to learn to be the best possible parents they can be. Parents can connect with resources, access programs, and enjoy family activities with their children at no cost. Programming includes parenting classes, parent information sessions on topics that are valuable to parents and parent-child interaction activities such as Play and Learn. Programming is developed on an ongoing basis in response to community needs and requests.
Warm line
Call the Janesville office warm line at (608) 314-9006 during office hours for non-emergency parenting advice on the day-to-day challenges of raising kids. The warm line is for parents who may be under stress, have questions or just need someone to talk to. Parents can also call for information about safe sleep, Newborn Nests and upcoming parenting classes.

Healthy Families Rock County
Healthy families is a free and voluntary support program that works collaboratively with families to encourage healthy prenatal and child development, strengthen parenting skills and connect families to community resources and support. Personalized services can be provided until the child reaches age 3. We will visit with you in your home, the community or at our office – wherever feels most comfortable and convenient for you to share parenting and child development information, supply the family with activity ideas that promote child development and a strong parent child attachment along with connecting the family to community resources. Women are eligible to enroll any time during pregnancy and after birth with a child up to 3 months of age.
To get started, please complete the referral form.
Visit our Facebook page for more information about our programs and services.