Fox Valley Hospital-Children's Wisconsin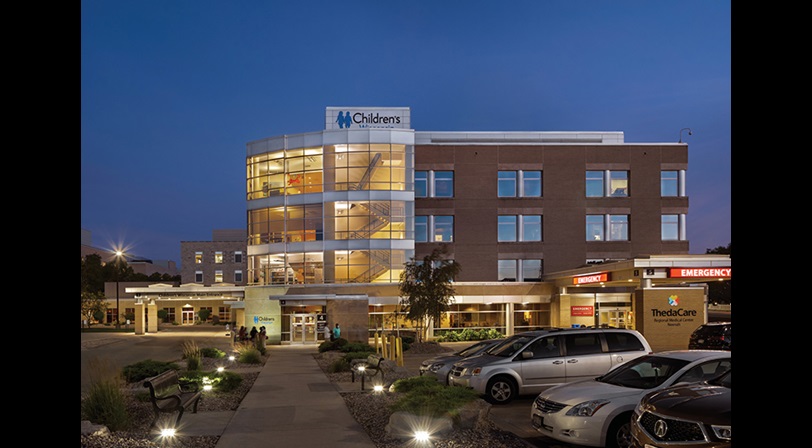 Main Phone

(920) 969-7900

Appointment Phone

(877) 607-5280

Main Fax

(920) 969-7979
Visitor guidelines
As COVID-19 vaccination rates rise and infection rates fall, we continue to review and update our visitation procedures. We miss having additional family members and siblings in our hospitals and clinics, and appreciate the continued commitment and partnership of our patient families and staff to provide a safe environment for everyone. Below are our current visitor practices:

Fox Valley hospital – Four adults will be allowed on a patient's visitor list. These four names must remain the same for the entire stay. Two individuals may be present at the bedside at the same time. Siblings and visitors under age 18 are still are not allowed in hospital in-patient care units at this time.
With our location in Neenah, Children's Wisconsin-Fox Valley Hospital is the only hospital in northeast Wisconsin dedicated exclusively to the care of kids. Our pediatric care providers know that little bodies respond differently to illness and treatment. Outstanding care providers, coupled with kindhearted care and explanations kids can understand, makes Children's Wisconsin the best choice for your sick or injured child.
Our care providers in the Fox Valley have direct access to specialists at our hospital in Milwaukee. They are ranked #1 in the nation for care of preemies and newborns. Children's Wisconsin-Fox Valley
Hospital is in all major northeast Wisconsin health plans, including Network Health
Network Health members now have in-network access to our hospital and specialty clinics in Milwaukee, Appleton, Neenah, and Green Bay.
Our Staff
Lisa Bakken

RD

CD

Mary Bartel

MD

Pediatrics

Daniel Beacher

MD

Pediatric Cardiology, Pediatrics

Julie Bertram

OTR/L

Janice Anne Bitong

MD

Pediatric Gastroenterology, Pediatrics

Matthew Buelow

MD

Adult Congenital Heart Disease, Internal Medicine, Pediatric Cardiology

Andrea Carberry

MD

Pediatrics

Sara Creighton

MD

Pediatric Cardiology, Pediatrics

Shannon Duvernell

DO

Pediatrics

John Edwards

MD

Pediatrics

Aaryn Feile

Caitlin Fitzgerald Hodkiewicz

MS

CCC-SLP

Claudia Nevarez Flores

MD

Pediatrics

Kathleen Hallett

BS

Kendra Hilgemann

MS

Michael Hokenson

MD

Neonatal-Perinatal Medicine, Pediatrics

Peter Holzwarth

MD

Pediatrics

Pankaj Jain

MD

Neonatal-Perinatal Medicine, Pediatrics

Patricia Kasper

MD

Pediatrics

William Kasper

MD

Pediatrics

Katelin Keck

DPT

Physical therapist

Jennifer Kilzer

APNP

Neonatal Nurse Practitioner

Lynn Kohlmeier

MD

Pediatrics

Michelle Konz

MOTR/L

Occupational therapist

Petra Laeven-Sessions

MD

Pediatrics

Kimberly Seeger Langlais

MD

Neonatal-Perinatal Medicine, Pediatrics

Nicole Martin

RD

CD

CSP

Certified Specialist in Pediatric Nutrition

Regina McCarthy

MS

RD

CD

Alma Natural

MD

Neonatal-Perinatal Medicine, Pediatrics

Thomas Nichols

MD

Pediatric Hospital Medicine, Pediatrics

Hanaa al-Khansa Nik Rushdi

MD

Pediatrics

Jeanne Richardson

MD

Pediatrics

Kimberly Roeloffs

APNP

Neonatal Nurse Practitioner

Lia Marie Sabalo

MD

Neonatal-Perinatal Medicine, Pediatrics

Laurie Schaefgen

APNP

Neonatal Nurse Practitioner

Gina Schwebke

RD

CSP

CD

Certified Specialist in Pediatric Nutrition

Ruchi Singla

MD

Neonatal-Perinatal Medicine, Pediatrics

Anna Surufka

PT

DPT

Bryanna Umentum

RD

CD

CDCES

Certified Diabetes Care and Education Specialist

Douglas Zabrowski

MD

Pediatric Gastroenterology, Pediatrics

Brooke Zelhofer

APNP

Pediatric Nurse Practitioner

Casandra ZumMallen

MD

Pediatrics