Fox Valley Hospital-Children's Wisconsin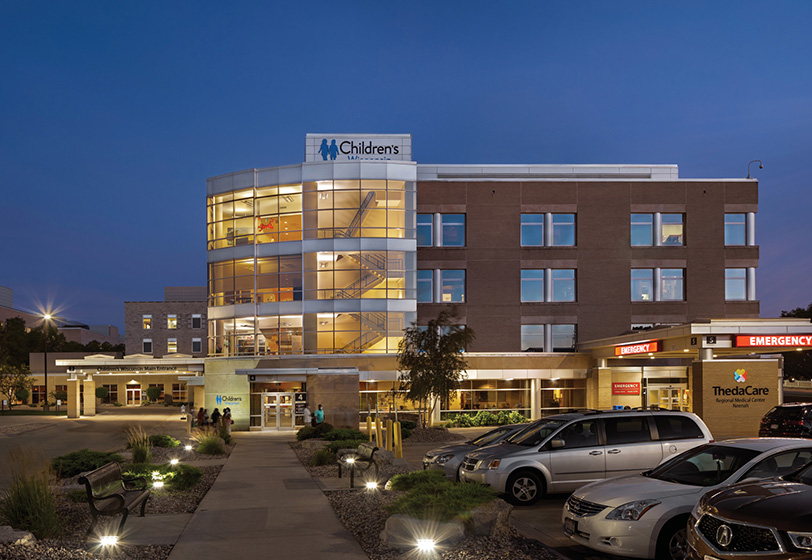 Visitor guidelines
Located in Neenah, our Fox Valley Hospital is the only hospital in northeast Wisconsin dedicated exclusively to the care of kids. Our pediatric care providers know that little bodies respond differently to illness and treatment. Outstanding care providers, coupled with kindhearted care and explanations kids can understand, makes Children's Wisconsin the best choice for your sick or injured child. 
Our Fox Valley Hospital is in all major northeast Wisconsin health plans, including Network Health
Network Health members now have in-network access to our hospital and specialty clinics in Milwaukee, Appleton, Neenah, and Green Bay.
Our Staff
Lisa Bakken

RD

CD

Mary Bartel

MD

Pediatric Hospital Medicine, Pediatrics

Daniel Beacher

MD

Pediatric Cardiology, Pediatrics

Matthew Buelow

MD

Internal Medicine, Pediatric Cardiology

Andrea Carberry

MD

Pediatric Hospital Medicine, Pediatrics

Sara Creighton

MD

Pediatric Cardiology, Pediatrics

Shannon Duvernell

DO

Pediatrics

John Edwards

MD

Pediatrics

Danielle Fair

MD

Pediatric Rheumatology, Pediatrics

Caitlin Fitzgerald Hodkiewicz

MS

CCC-SLP

Claudia Nevarez Flores

MD

Pediatrics

Jonathan Gutzeit

MD

Pediatrics

Justine Haslanger

MS

CCC-SLP

CLC

Speech-language pathologist

Ashleigh Hayward

MS

CCC-SLP

Speech-Language Pathology

Michael Hokenson

MD

Neonatal-Perinatal Medicine, Pediatrics

Peter Holzwarth

MD

Pediatrics

Pankaj Jain

MD

Neonatal-Perinatal Medicine, Pediatrics

Kristin Jones

MA

CCC-SLP

IMH-E

Jennifer Kilzer

APNP

Neonatal Nurse Practitioner

Lynn Kohlmeier

MD

Petra Laeven-Sessions

MD

Pediatric Hospital Medicine, Pediatrics

Kimberly Seeger Langlais

MD

Neonatal-Perinatal Medicine, Pediatrics

Nicole Martin

RD

CD

CSP

Certified Specialist in Pediatric Nutrition

Regina McCarthy

MS

RD

CD

Jordan Pulda

MS

SLP

Speech and language pathology

Kimberly Roeloffs

APNP

Neonatal Nurse Practitioner

Laurie Schaefgen

APNP

Neonatal Nurse Practitioner

Gina Schwebke

RD

CSP

CD

Certified Specialist in Pediatric Nutrition

Avantika Singh

MD

Epilepsy, Neurology with Special Qualifications in Child Neurology

Ruchi Singla

MD

Neonatal-Perinatal Medicine, Pediatrics

Anna Surufka

PT

DPT

Douglas Zabrowski

MD

Pediatric Gastroenterology, Pediatrics

Brooke Zelhofer

APNP

Pediatric Nurse Practitioner

Casandra ZumMallen

MD

Pediatrics