Fox Valley NICU
Having a baby in the Neonatal Intensive Care Unit (NICU) is often an unexpected journey. The staff of Children's Wisconsin in the Fox Valley NICU will do their best to help you as well as your baby. Our NICU is a Level III, 22-bed NICU unit, located in Neenah, WI. The staff provides critical care to premature and critically ill infants in Northeast Wisconsin.
The unit is equipped with the state-of-the-art equipment necessary for the diagnosis and treatment of critically ill newborns. Learn more about the Fox Valley NICU programs, services, specialists, and more by clicking below.
NICU patient stories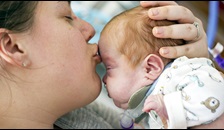 Read stories about patients and families in our NICU.