Castle.Proxies.HeroBannerViewModelProxy?.GoogleAnalyticsEventAction
Healthy Baby, Happy Parent Podcast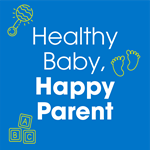 New parents have a lot of questions. Healthy Baby, Happy Parent from Children's Wisconsin is the podcast that answers those questions and more. In each episode we talk to a different pediatrician from the Children's Wisconsin team to get the answers to your most challenging parenting questions. We tackle everything from feeding your baby, to tracking development, to worrying about that first cold.
We'll equip you with current evidence-based information, as well as "been there, done that" ideas and advice from our knowledgeable team of pediatric experts. Parenting isn't always easy, but with Children's Wisconsin as your partner, you can make all of those tough decisions with a little more confidence, and taking care of your baby can be a little less stressful and a lot more fun.
Subscribe wherever you get your podcasts

Episode Guide 
Children's Wisconsin Primary Care
At Children's Wisconsin, we're committed to bringing your family the best care and peace of mind. We believe a pediatrician's job is more than just vaccines, prescriptions, physicals, well child and sick visits. As your primary care partner, we're here to truly listen and do everything we can to enhance your child's physical, mental and emotional health and well-being — no matter what.
Find a primary care clinic in your neighborhood
Participate in the Children's Wisconsin Podcast
Interested in sharing real-life parenting experience for the opportunity for a Children's Wisconsin pediatrician to offer their tips and advice? We are seeking parent partners to help us launch our next season. Learn more.