Contact us
To contact the sacral neuromodulation team, please contact Katie Raml, senior administrative assistant at (800) 400-3679 or (414) 266-3769, or fill out the form below. Request a second opinion using our online form.
To make an appointment: call the Central Scheduling or use the "request an appointment" button to submit your request online.
(877) 607-5280
It's important to know what your options are. We can provide expert opinions to verify or give more information about an initial diagnosis. Contact us today.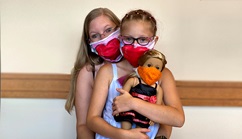 Embarrassing accidents. Social isolation. Constant anxiety and fear. This is what life is like for many kids with uncontrolled bladder and bowel disorders. But thanks to a small electronic device, whose use in kids was pioneered by Dr. Manu Sood and Dr. Hrair-George Mesrobian at Children's Wisconsin, these kids are now able to live life and grow up like any other. Read Nika's sacral neuromodulation story.