Kenosha Clinic-Children's Wisconsin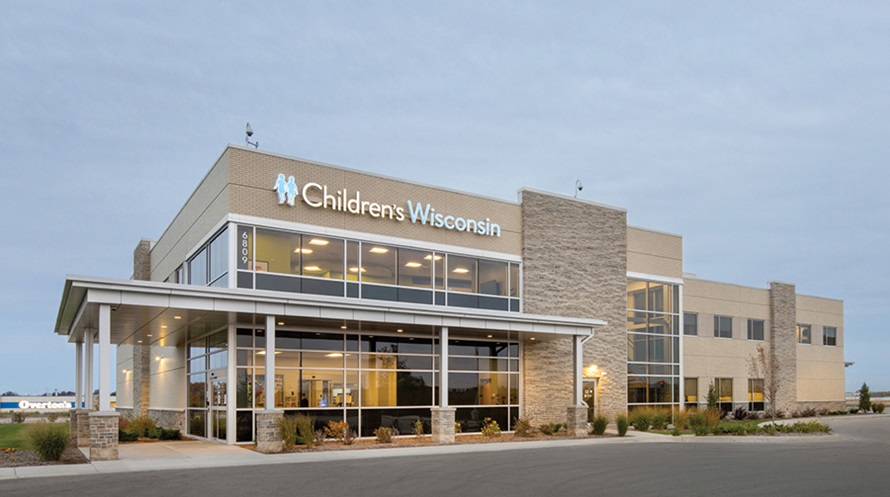 Main Phone

(877) 607-5280
Visitor guidelines: As COVID-19 vaccination rates rise and infection rates fall, we continue to review and update our visitation procedures. Please review our latest guidelines before coming to any Children's Wisconsin location.

In all of our specialty care, primary care and urgent care clinics, two individuals may accompany the patient.
---
Access to the state's best pediatric care is now more convenient than ever. Located off of highway 94 at the intersection of 122nd Avenue and 71st Street, the Kenosha Clinic offers:
Enhanced access to multiple pediatric specialties in one location
All-day urgent care clinic open from 9 a.m. to 9 p.m. seven days a week
Teen Health Clinic
Pediatric specialties:
Imaging (radiology) and lab services
The clinic offers scheduled lab and imaging services, including ultrasound and X-ray.
Lab
Imaging
7:30 a.m. to 9 p.m. Monday through Friday
9 a.m. to 9 p.m. Saturday and Sunday
Ultrasound
7:30 a.m. to 6 p.m. Monday through Thursday
8 a.m. to 4:30 p.m. Friday
Our Staff
Ashley Andreoli

APNP

Pediatric Nurse Practitioner

Farhat Ashai-Khan

MD

Pediatric Gastroenterology

Christine Bengtson

APNP

Pediatric Nurse Practitioner

Kevin Boyd

DO

Diagnostic Radiology, Pediatric Radiology

Raj Chawla

MD

Family Medicine

Tejaswini Deshmukh

MD

Diagnostic Radiology, Neuroradiology, Pediatric Radiology

Kelsey Dragoon

OTR/L

Occupational therapist

Melissa Fiocchi

MS

CCC-SLP

Speech-Language Pathologist

Julia Fishler

APNP

Pediatric Nurse Practitioner

Peter Frommelt

MD

Pediatric Cardiology

Jennifer Gerardin

MD

Adult Congenital Heart Disease, Internal Medicine, Pediatric Cardiology, Pediatrics

Brittney Gniedziejko

AuD

Audiology

David Gregg

MD

Interventional Radiology and Diagnostic Radiology, Pediatric Radiology

Travis Groth

MD

Pediatric Urology, Urology

Todd Gudausky

MD

Internal Medicine, Pediatric Cardiology

Kathleen Hadsell

AuD

Maureen Hanson

APNP

Family Nurse Practitioner

Brenda Hasse-Rupp

PAC

Physician Assistant

Lane Hepp

MS

Speech pathology

Jenna Jozwik

APNP

Pediatric Nurse Practitioner

Leah Lalor

MD

Dermatology, Pediatric Dermatology

Anne Lange

PAC

Physician Assistant

Mohit Maheshwari

MD

Diagnostic Radiology, Neuroradiology, Pediatric Radiology

David Moe

MD

Diagnostic Radiology, Pediatric Radiology

Matthew Plunk

MD

Diagnostic Radiology, Pediatric Radiology

Jing Qi

MD

Diagnostic Radiology, Nuclear Medicine, Pediatric Radiology

Katie Ricciardi

PAC

Physician Assistant

Sara Sabbagh

DO

Pediatric Rheumatology, Pediatrics

Margaret Samyn

MD

Pediatric Cardiology, Pediatrics

Sophie Shay

MD

Otolaryngology - Head and Neck Surgery

Anne Spence

AuD

CCC-A

Audiology

Stacy Stibb

DO

Pediatric Rehabilitation Medicine, Physical Medicine Rehabilitation

Grzegorz Telega

MD

Pediatric Gastroenterology, Pediatric Transplant Hepatology

Pooja Thakrar

MD

Diagnostic Radiology, Pediatric Radiology

Heidi Vanderpool

APNP

Pediatric Nurse Practitioner

Nghia (Jack) Vo

MD

Interventional Radiology and Diagnostic Radiology, Pediatric Radiology

Kristen Volkman

MD

Allergy Immunology, Pediatrics