The Children's Wisconsin Cystic Fibrosis Center, affiliated with the Medical College of Wisconsin, is proud to serve the cystic fibrosis community throughout the state of Wisconsin and the upper Midwest. Our care team is devoted to providing the best and highest quality CF care to help keep our CF community and your children as healthy as they can be.
We take pride in the excellent health outcomes our patients have. In addition to our clinical care, we have regular quality improvement initiatives to further improve your children's care as well as multiple research opportunities. Thank you for your interest and support of our Cystic Fibrosis Center. Please call (414) 266-6730 with any questions or to make an appointment.
Why choose Children's Wisconsin for Cystic Fibrosis Care?
The Cystic Fibrosis Center at Children's is fully accredited for care, teaching, and research by the Cystic Fibrosis Foundation. The center's clinical outcomes have been consistently outstanding for many years.
The Center was selected as one of the 2015-2016 recipients of the annual Cystic Fibrosis Foundation's Quality Care Award: Recognizing Outstanding QI Processes and Accomplishments. To be considered for the award, an organization must:
Actively use clinical outcomes data to identify opportunities for improvement and documenting the results of improvement efforts
Align improvement efforts to result in measurable improvement in important clinical outcomes
Consistently and actively involve patients and families in identifying, designing, or implementing improvement efforts
Employ innovative strategies to improve care processes and outcomes
Implement system changes that result in high reliability of care processes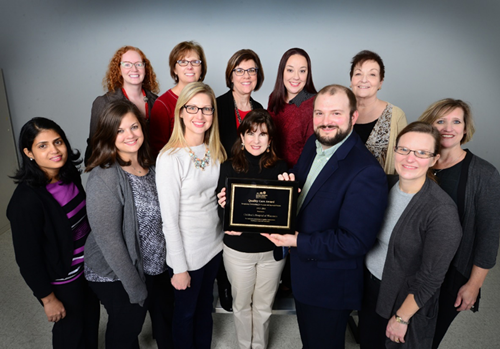 To request an appointment or have questions, please call the Pulmonary Medicine Program:
(414) 266-6730
Taylor's story
Taylor was born with cystic fibrosis. Learn how the care she receives at Children's Wisconsin allows her to keep doing the things she loves — playing flute, running track, and studying ballet.