Delafield Clinic-Children's Wisconsin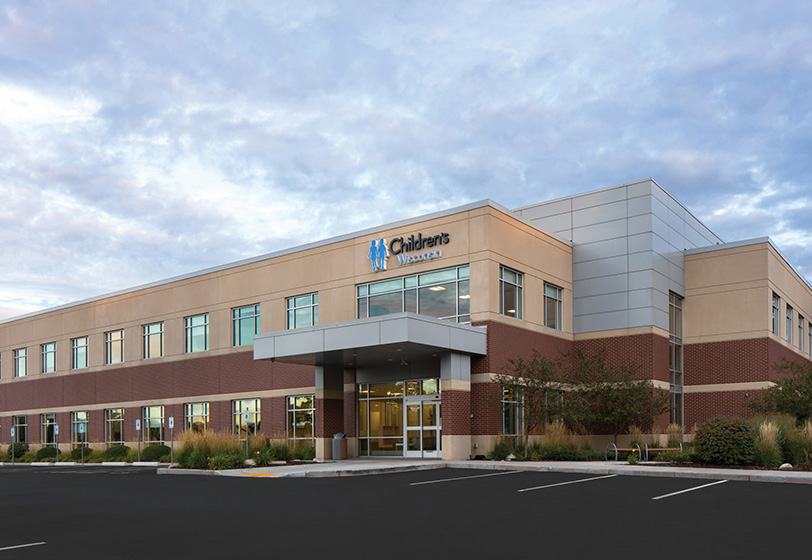 Top pediatric specialty and primary care in Delafield
We are pleased to offer the care you've come to trust from Children's Wisconsin at our Delafield Clinic. Our Delafield location gives families in Lake Country convenient access to the state's #1 pediatric health system. There are more than 40 providers from more than 15 specialties at the clinic, as well as primary care pediatricians and urgent care.

Our Delafield Clinic has imaging services, lab services, and a pharmacy on site, as well as a state-of-the-art sports medicine facility. Unique to southeast Wisconsin, our nearly 4,000-square-foot physical therapy gym assists kids with their recovery from sports-related injuries. It includes features designed to meet the special needs of young athletes, including:
A hydrotherapy pool
A two-story gym with regulation basketball lane and hoop and tall enough for volleyball retraining
Specialized netting for pitching and throwing
Cardio equipment, including treadmills, bikes and elliptical machines
Schedule a baseline concussion test
A baseline concussion test helps improve concussion care and make return-to-play decisions. Find available slots.
Same-day care for broken bones
The orthopedic team has same-day appointments available for kids and teens needing care for a broken bone. To schedule an appointment with an orthopedic specialist please call (414) 607-5280 or (877) 607-5280 (toll-free).
Request an appointment
To request an appointment at the Delafield Clinic or to schedule a tour, use our online form or call (877) 607-5280.
Specialties
Imaging (radiology) and lab services
For the convenience of families, the clinic offers walk-in and scheduled lab and imaging services, including ultrasound, X-ray and pulmonary function testing.
Lab open Wed. and Thur. 8:30 a.m. to 4:30 p.m.
Appointments are required through Central Scheduling - Request Delafield Lab.
Imaging open Monday through Friday 7:30 a.m. to 5 p.m.
Closed holidays
Our Staff
Hari Prasad Rao Bandla

MD

Pediatric Pulmonology, Sleep Medicine

Sarah Bonnett

AuD

CCC-A

PASC

Audiology

Kevin Boyd

DO

Pediatric Radiology

Tammy Buteyn

MPT

ATC

CSCS

Athletic training

Lynn Calaway

PAC

Physician Assistant

Casey Calkins

MD

Pediatric Surgery, Surgery

Cameron Cassaro

PT

DPT

CSCS

Physical Therapy

Lauren Castner

DO

Pediatric Pulmonology, Pediatrics, Sleep Medicine

Joseph Cava

MD

Pediatric Cardiology, Pediatrics - General

Laura Chirempes

MS

OTR/L

Michael (Mick) Collins

PT

DPT

Physical therapy

Tejaswini Deshmukh

MD

Diagnostic Radiology, Neuroradiology, Pediatric Radiology

Jenna Dierigner

OTR/L

Erin Doxtator

DPT

MTC

LAT

Physical therapy

Kelsey Dragoon

OTR/L

Occupational therapist

Sarah Dressler

MS

LAT

Sports Medicine

Allison Duey-Holtz

APNP

Pediatric Nurse Practitioner

Suzanna Eddy

PT

DPT

Physical Therapy Athletic Trainer

Melissa Ericson

DAT

LAT

Sports medicine

Danielle Fallon

LAT

OTC

OT-SC

Shayne Fehr

MD

Pediatrics, Sports Medicine

Victoria Flanagan

LAT

OTC

Sports medicine

Tanner Flatland

MS

Nationally Certified Athletic Trainer through the Board of Certification (BOC)


Lisa Gamalski

PAC

Physician Assistant

Dan Garbacz

DPT

LAT

Physical and occupational therapy

Leslie Gimenez

MD

Allergy Immunology

Salil Ginde

MD

Adult Congenital Heart Disease, Internal Medicine, Pediatric Cardiology

David Gregg

MD

Interventional Radiology and Diagnostic Radiology, Pediatric Radiology

Drew Hacker

LAT

Sports medicine

Maria Haning

MS

CCC-SLP

Speech-Language Pathology

Missy Hansen

MS

LAT

Nationally Certified Athletic Trainer through the Board of Certification (BOC)


Lori Ann Johnson

MS

Maddy Jones

LAT

Sports medicine

Teresa Kelly

MD

Diagnostic Radiology, Neuroradiology, Pediatric Radiology

John Kryger

MD

Pediatric Urology, Urology

Dave Lal

MD

Pediatric Surgery, Surgery

Amanda Lehnerz

MS

LAT

OTC

Sports medicine

Gabrielle Lorrigan

MS

Speech and language pathology

Sara Lowe

APNP

Pediatric Nurse Practitioner

Kylie Luer

MOT

Occupational Therapy

Mohit Maheshwari

MD

Diagnostic Radiology, Neuroradiology, Pediatric Radiology

David Moe

MD

Diagnostic Radiology, Pediatric Radiology

Stephanie Olive

MS

Tracy Piette

MS

Matthew Plunk

MD

Diagnostic Radiology, Pediatric Radiology

Monica Pupillo

MS

Jing Qi

MD

Diagnostic Radiology, Neuroradiology, Nuclear Medicine, Pediatric Radiology

Kyla Renz

LAT

Sports medicine

Coleen Rosen

APNP

Family Nurse Practitioner

Juan Ruiz

MD

Pediatrics

Kyle Scharer

MS

Cornell Smith

MS

Cecille Sulman

MD

Complex Pediatric Otolaryngology, Otolaryngology - Head and Neck Surgery, Sleep Medicine

Kat Tase

LAT

OTC

J Channing Tassone

MD

Orthopaedic Surgery

Madeline Tetzke

PT

DPT

Physical and occupational therapy

Pooja Thakrar

MD

Diagnostic Radiology, Pediatric Radiology

John Thometz

MD

Orthopaedic Surgery

Nghia (Jack) Vo

MD

Interventional Radiology and Diagnostic Radiology, Pediatric Radiology

Caitlin Weber

LAT

Nationally Certified Athletic Trainer through the Board of Certification (BOC)


Nicholas Young

PhD