Wisconsin's first prenatal spina bifida repair surgery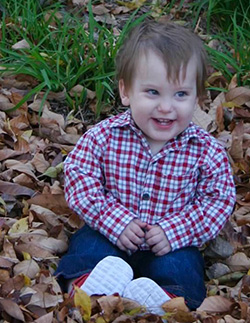 The first prenatal spina bifida surgery in Wisconsin was completed at Children's Wisconsin in 2014. Joe and Melanie Donnerbauer of Little Chute, Wis. discovered their son, Miles, had a severe form of spina bifida in Melanie's 18th week of pregnancy. Spina bifida is a defect in the closure of the neural tube, often leading to paralysis. The Donnerbauers chose to undergo in utero corrective surgery to repair the spinal defect, which was the first procedure of its kind in the state of Wisconsin. Miles was born six weeks after the surgery.
Milwaukee's WISN 12 News covered the story on Nov. 1. As of when the story aired, Miles weighed almost seven pounds and had movement in his legs. Right now, he seems to be on track to a healthy life, and there is a very good chance he will be able to walk.
Contact us
For additional information on the Fetal Concerns Center at Children's Wisconsin, please call:
Fax: (414) 337-1884
Note: These phone numbers should not be used for urgent medical concerns. Please contact your physician directly if your situation requires immediate attention, or dial 911 if it is an emergency.