Madelyn's story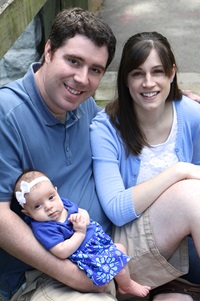 Stephanie Herian's first pregnancy was sailing along until her 20-week ultrasound. She and her husband, Rick, residents of Port Washington, were excited to learn their child was a girl, whom they named Madelyn. But her doctor found a spot on the baby's lung. "It was a concern, but nothing too alarming," said Stephanie. Her doctor continued to monitor the spot, and at first, nothing changed. Then at 28 weeks, it had grown considerably and Stephanie was referred to the Fetal Concerns Center at Children's Wisconsin with a suspected diagnosis of congenital pulmonary airway malformation (CPAM), a rare birth defect in which a mass of abnormal tissue grows in the lung.

Within days, Stephanie was at the Fetal Concerns Center, where she learned that Madelyn had a particularly severe form of the disease. "We were scared, but we also felt reassured by the staff who were really good at explaining exactly what they were doing and why they were doing it," she said. An analytical chemist by training, Stephanie wanted to understand everything that was happening to her baby. "Our maternal fetal medicine specialist, Dr. Meredith Cruz, could tell I was anxious. She understood what I needed and even though I asked so many questions, she was always patient."
A dedicated team
Stephanie had several ultrasounds each week to monitor the baby's health, as the growth in Madelyn's lung was beginning to crowd the heart. By 35 weeks, the cyst had grown even larger and Stephanie was admitted to Froedtert Hospital. "The cyst had shifted her heart to the other side of her chest and her other healthy lung was compressed – and on top of it all, she was breech," she said. Her care team, including nurse coordinator Marcia Koenig, RN, made it okay. "The way the Fetal Concerns Center is organized is fantastic and communication is seamless. I never had to explain the baby's condition to any of the people who cared for me – they were all on the same page."

Nurse coordinators like Koenig focus on the mother's well-being and arrange appointments so patients can get all their care in one place at one time. They are also on call to answer questions and provide reassurance. "I never worried I was bothering Marcia, because she told me 'it's my job to help you and answer all your questions.' She made me feel cared for not just physically, but emotionally."
Delivery and NICU care side-by-side
When it came time for delivery by C-section, it was all hands on deck. "There were 15 people in the operating room just for the baby," said Stephanie. Amazingly, Madelyn was able to breathe on her own at birth, but her condition was still serious. Dr. Amy Wagner performed surgery to remove the upper lobe of Madelyn's left lung when she was five days old – thoracoscopically so no large incisions were needed. Then Madelyn began her recovery in the Children's NICU.

"Being just steps away from Madelyn in the NICU was great," says Stephanie, who recovered in the birthing center at Froedtert. The nurses there were amazing – so calm and thorough." Once recovered from her C-section, she and her husband stayed in Madelyn's private room in the NICU. "We loved being so close to her, and the NICU nurses were concerned about me, too. They would make sure I was eating, sleeping and not on my feet too much."
An amazing outcome
Madelyn made a full recovery and is a happy, relaxed and healthy baby. "Her lower lung lobe has expanded to make up for the loss of the upper," Stephanie said. "She's got so much fight and spunk to her, and she's the smiliest little girl.

"Our experience with Madelyn is not what having a first child is supposed to be." But she feels lucky to live close to Children's and to have received care at the Fetal Concerns Center. "If we hadn't had Children's, I don't know how things would have turned out. The confidence of our doctors put us at ease. In their minds, there was never any doubt that Madelyn would be okay."

Get a second opinion
(414) 240-1831
Research and outcomes
Our outcomes reports help families and partner providers make the most informed healthcare decisions. Learn more about our surgical outcomes and current research studies.
Contact us
For additional information on the Fetal Concerns Center at Children's Wisconsin, please call:
Fax: (414) 337-1884
Note: These phone numbers should not be used for urgent medical concerns. Please contact your physician directly if your situation requires immediate attention, or dial 911 if it is an emergency.