Fetal resources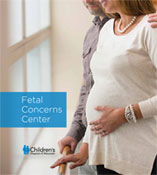 Learn more about the Fetal Concerns Center
Download our overview brochure to learn more about the programs and services provided by the Fetal Concerns Center.

Below is a list of various websites that may be helpful resources during your pregnancy.
It's important to know what your options are. The Fetal Concerns Center can provide expert opinions to verify or give more information about an initial diagnosis. Contact our access center today.
(414) 240-1831
Our outcomes reports help families and partner providers make the most informed healthcare decisions. Learn more about our surgical outcomes and current research studies.
For additional information on the Fetal Concerns Center at Children's Wisconsin, please call:
Fax: (414) 337-1884
Note: These phone numbers should not be used for urgent medical concerns. Please contact your physician directly if your situation requires immediate attention, or dial 911 if it is an emergency.