Pediatric nurse – Ambulatory (float)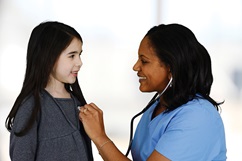 Help kids get the care they need, close to home
Children's Wisconsin is looking for experienced pediatric nurses to help us deliver high quality care in locations that are convenient and accessible for Wisconsin families. As an ambulatory float nurse, you'll travel to our clinics in Delafield, Fox Point, Greenfield, Kenosha and New Berlin.
Every day will be different, and you'll make a difference to kids. Working one-on-one with Children's specialty providers, you will provide primary nursing care, assist with on-site procedures, and give patients and families the education and support they need for the healthiest outcome.
This position offers one-of-a-kind rewards, including the opportunity to:
Work with pediatric patients across metro Milwaukee
Grow and expand your skills in multiple specialties
Be part of a dynamic team with a collaborative approach to care
Enjoy a flexible schedule with daytime, weekday hours (no weekends or holidays) and minimum of four shifts per month, if available
When you practice at Children's, you'll be part of a nationally recognized health system dedicated solely to the health and well-being of children. Our goal is to make sure kids receive nothing but the best. And you can help. Join our team today.
How to apply
Click here to access our job application site, and do a keyword search for Pediatric Nurse Ambulatory Float.
Featured videos
Learn why nurses love working at Children's Wisconsin.
Contact us
For more information about career opportunities, call us.
(414) 266-2250