Emergency Department Trauma Center RN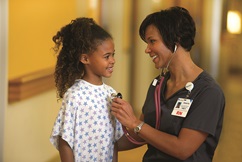 Part time and full time nights
Caring for kids when every moment counts
If you're a registered nurse with solid skills, a big heart and the capacity to care for kids when they need it most, Children's Wisconsin has an exciting opportunity for you in our emergency department.
As a Children's ER nurse, you can practice your specialty at the region's only independent health system dedicated solely to the health and well-being of children. We're a Level I Pediatric Trauma Center with highly specialized facilities, services and care for kids, and we see more than 60,000 emergency/trauma visits each year.
At Children's, you'll have the unique opportunity to:
Care for kids and support families during an emergency visit, and help them navigate the health system to access additional care or services they may need
Tackle diverse tasks—from triage, to patient placement, to trauma and primary care—and be involved in many aspects of the nursing process, including care management, discharge planning, teaching, consultation and research
Collaborate with highly skilled pediatric medical and nursing professionals as part of our team-centered approach
Work in a state-of-the-art environment where you can grow your knowledge and expand your professional options. Children's supports emergency nurses by providing formal training in specific areas, such as Pediatric Advanced Life Support (PALS) and trauma care.
Kids need care they can count on when they're facing an emergency. Together, we can help ensure that every child and family receives nothing but the best.
Job summary
Pediatric RNs serve as a partner in the Children's Emergency Department Trauma Care (EDTC) care management team. They provide coordination and management of patient care to pediatric patients and families within a continuum of care.
How to apply
Click here to access our job application site, and do a keyword search for EDTC.
Featured videos
Learn why nurses love working at Children's Wisconsin.
Contact us
For more information about career opportunities, call us.
(414) 266-2250