Pediatric Ventricular Assist Device (VAD) and ECMO Program
Our Cardiac Critical Care Unit (CICU) serves as the home for our Pediatric Ventricular Assist Device (VAD) and ECMO Program, which uses pediatric home ventricular assist devices (VADs) and extracorporeal membrane oxygenation (ECMO). The mechanical circulatory support devices allow us to support our most critical patients, helping them feel better and enjoy a more routine lifestyle. Since 2006, approximately 25 percent of our heart transplant patients were supported during their waiting period by some form of mechanical circulatory support. These devices allow us to support our most critical patients, making them feel better and more functional while waiting for a heart.
A ventricular assist device (VAD) is a type of pump that can be surgically implanted to assist the failing heart in pumping blood throughout the body. Over the past few years, our team has successfully used a wide variety of available devices to "bridge" or help patients with severe heart failure get stronger while waiting for heart transplant or for their own hearts to recover. Our experience and expertise with the full array of available technologies allows the team to select the best type of support for each patient.
VADs allow a "more normal" lifestyle
The Children's Wisconsin program is one of the few pediatric programs in the country with the depth and experience to offer pediatric patients and their families the opportunity to go home with their VAD support. This includes the ability to attend school and participate in other activities with close follow-up by our home VAD team. Children supported by VAD also require less IV medicines and can enjoy a normal appetite and diet.
Types of support offered include:
ECMO (including mobile ECMO)
Heart Ware HVAD
Heartmate II
Impella
Thoratec PVAD
Total artificial heart
Become a patient or contact us
Nationally recognized

Among the nation's best 
U.S. News & World Report has once again ranked the Herma Heart Institute at Children's Wisconsin among the top programs in the nation for pediatric cardiology and heart surgery. This ranking reflects the excellent outcomes and care we provide for even the most complex heart conditions. Families travel from across the country, and even around the world, to receive care from our specialists who are experienced in treating congenital heart disease from before birth and into adulthood.
Read the Report
Jack's story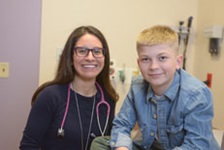 At 11 years old, Jack's need for a heart transplant soon made him the first pediatric heart patient in the U.S. to have a home VAD. Read Jack's story.