Contact us
Call our sports line at (414) 604-7512 to speak with a sports medicine expert or request an appointment.
Licensed athletic trainers and nurses are available 8 a.m. to 4:30 p.m., Monday through Friday. You can leave a message anytime, and your call will be answered as soon as possible.
Request a speaker from our orthopedics and sports medicine team.
Sports nutrition counseling services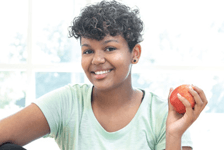 Children's Wisconsin offers sports nutrition counseling services to help patients and families who have concerns and questions about diet, hydration, sports injury recovery, and overall healthy eating for performance.