For medical professionals
Referral resources
Learn how to make a referral. On this page, you will find:
Physician Call Center and Central Scheduling phone numbers
Information about patient transport services
Referral forms
Outpatient order forms
Consent forms
Education/continuing medical education (CME) resources
SMART Series: The SMART Series is a unique virtual experience dedicated to sports medicine professionals, including licensed athletic trainers, sport psychologists, physical and occupational therapists,and orthopedists. The series includes lectures, Q&A and educational credits at no cost to you.
Practical Pediatrics Grand Rounds CME Webcasts: These free webcasts provide the latest information about common problems encountered in pediatric practice. They are designed to benefit all health care providers who work with children, including pediatricians, family practice physicians, nurse practitioners and physician assistants. Free CME or contact hours are available to those who create an account, view the entire webcast, complete and submit an evaluation form and complete and submit the accompanying quiz. Learn more.
Pediatric Grand Rounds events: Get information about upcoming events and watch videos of past events.
Patient Care resources
Medical care guidelines: Access clinical guidelines for various conditions.
COVID-19 Return to play summary: Guidelines for physical activity following a COVID-19 infection.
Patient handouts/teaching sheets: These are used by Children's staff to teach parents and children about health topics, conditions or procedures. They are written by staff and are updated regularly. They include the most important information for families to know when caring for their child. Download documents related to orthopedics.
Get more information you might find useful.
Physician consultation line
Staffed 24 hours a day.
Refer a patient
Discuss a case
Arrange a transport
Direct admission
(414) 266-2460
Toll-free: (800) 266-0366
Call us
To speak with a sports medicine expert or request an appointment, call:
(414) 604-7512
Licensed athletic trainers and nurses are available 8 a.m. to 4:30 p.m., Monday through Friday. You can leave a message anytime, and your call will be answered as soon as possible.
Request a speaker from our orthopedics and sports medicine team.
Growth plates 101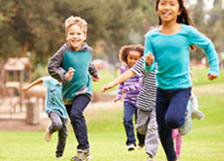 Why pediatric experts are best equipped to treat growth plate fractures in children.