Celebrating Black History Month - Part Two
---
This is Part 2 of our Black History Month celebration. For Part 1, click here. 
Iris Lowery 
Human resource business partner, Human Resources
Nominated by: Christine Prud'Homme and Juliet Kersten
Iris Lowery always had a deep respect for her mother's work as a nurse. At the same time, she knew that her weak stomach meant she wasn't cut out for patient care herself.
But Iris found her own niche in health care, spending more than 15 years in human resources at Aurora Health Care before joining Children's Wisconsin in 2017.
"I'm a very mission-driven individual, and I love to support others as they care for patients and their families," she said.
She was attracted to Children's Wisconsin collaborative culture and opportunities of the HR business partner role, which was clearly valued by Children's Wisconsin leadership.
"Every week is never the same — that's what I love about it," Lowery said. "Sometimes it's talking with leaders about how to improve the performance of an employee. Sometimes it's working with an employee who is interested in doing something different. A lot of times it's working with leaders on a particular department goal or strategy."
One of her favorite projects involved working with a clinic over six months to deepen employee engagement and improve culture. "We've seen and heard that it has made a difference," she said. "It's those opportunities that really fuel me."
Iris also helps others achieve their best outside of Children's Wisconsin: she works with students through Alverno College's Volunteer Assessor Program and serves as board president of CEOs of Tomorrow, a nonprofit focused on empowering Madison-area youth to get involved with social entrepreneurship.
Iris models Children's Wisconsin values and guiding behaviors every day, said HR colleague Christine Prud'Homme. "Iris is a high performer with great integrity," she explained. "She is thoughtful, collaborative, professional and kind. She brings new ideas to the table and follows through on the initiatives that will improve our organization and employee experience."
Did you know…Iris is a home repair pro. "I'm very comfortable with a power tool in my hand. I do a lot of work in my house, from electrical to drywall. That's my creative outlet: getting dirty in my house."
Frank Robinson 
Community Engagement Program manager, Community Health
Nominated by: Bridget Clementi and Audrey Burghardt
Frank Robinson is a Children's Wisconsin boomerang: he first joined Children's Wisconsin more than 30 years ago as a financial counselor, left for a role in the City of Milwaukee's Health Department, and then returned to Children's Wisconsin just four years later. Children's Wisconsin was thrilled to have him back.
"Frank Robinson is a quiet and patient leader who delivers big impact across his team, his colleagues and the community," said Bridget Clementi, vice president of Community Health. "Frank's greatest strength is his true humility and desire to serve others."
Frank manages the Community Engagement Program, which includes the community navigators and community connectors who help families in Children's Wisconsin partner neighborhoods get connected to resources and support.
"It deals with the social determinants of health," Robinson said. "We have families complete a social needs assessment and we assist them with setting goals. We're trying to help families become whole and independent. We don't enable families — we coach, teach and educate families to help them become self-sufficient."
As a lifelong Milwaukeean, Frank is committed to making an impact close to home. "It's part of being able to give back to my community and also caring about the community I was raised in," he said.
Frank is a champion of trauma-informed care practices. "A lot of folks don't realize that they've had trauma in their life because they just accept their environment — which could be violent because a lot of them are in poverty," he said. But identifying that trauma is a key first step to treating it, he noted. "Once that's done, we can begin to help them get treatment. And I think that's very important, because a lot of adults have a lot of anger and they don't know why."
Despite all he's accomplished professionally, Frank is most proud of his kids, ages 33, 25 and 18. "As you get older and get everything you want and need, it's not about money, it's about what you've done with your life and what you want to do with the rest of your life," he said. "My kids are my legacy."
Did you know…Frank has shed 80 pounds over the past year thanks to a new diet and 5-day-a-week gym habit.
Augusta Smith, RN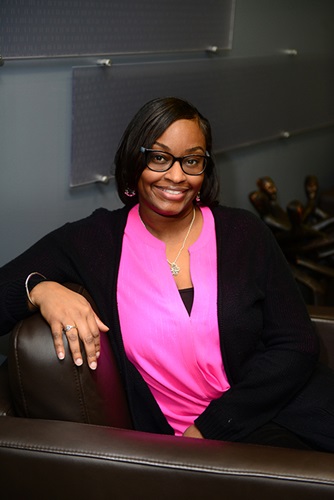 Nurse, utilization manager/case manager, Physical Health Team
Children's Community Health Plan (CCHP)
Nominated by: CCHP's Diversity and Inclusion Committee and Catherine Dailey
Augusta Smith's favorite quote: "Life is not meant to be lived in one place." It sums up her passion for travel and her on-the-go spirit, whether she's busy working with families with CCHP, planning trainings for her colleagues or volunteering after hours.
Augusta joined Children's Wisconsin more than seven years ago, starting in Day Surgery and then moving to CCHP.
"I am most proud of the opportunity to become a nurse and give back to the community," said Smith, who works with CCHP's members to address the social determinants of health. "I have been able to grow so much professionally and personally."
Her dedication is obvious to colleagues. "Augusta works tirelessly to assure timely, thorough and detailed reviews of authorization requests for our members," noted CCHP manager Catherine Dailey. "In addition, others seek her out for guidance, advice and support as a team leader. Augusta is an expert in her field as well as compassionate, assuring our members receive the best care possible."
Augusta is active on CCHP's Diversity and Inclusion Committee and helped coordinate two staff trainings last year on the LGBTQ community and the Hmong community. For an all-staff meeting, she helped organize a "Blue Eyes-Brown Eyes" exercise, which labels participants as inferior or superior based solely on eye color, helping all staff better understand the experience of being a minority.
"Augusta is always willing to jump in and share ideas," Dailey noted. "We truly appreciate her teamwork, leadership and skill set."
Giving back is just part of who Augusta is. "I absolutely love to do volunteer work when time allows," she said. "At CCHP community events, back-to-school fairs at my daughters' schools, feeding the homeless, etc., any way I can give back to the community."
Did you know…Augusta is a big sports fan, especially football and basketball. She also loves to travel. Some of her favorite destinations include Arizona, Puerto Rico, Belize and anywhere in the Caribbean.
Latoya Stamper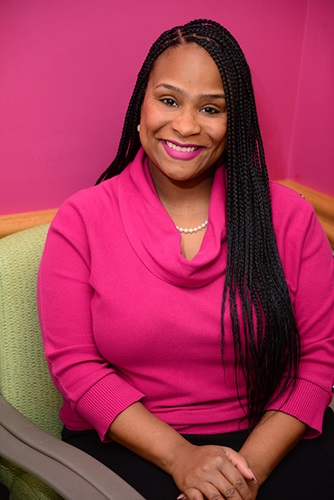 Lead social worker, Family Services
Nominated by: Megan Struve, Melissa Anderson, Lauren Giuliani and Katie Cavannaugh
News that a child has sickle cell disease can send a family reeling. The severe genetic condition, which primarily affects African-Americans, can bring a lifetime of pain and other complications.
Fortunately, social worker Latoya Stamper is right by their side, ready to offer emotional support and help families navigate the maze of community resources, school needs and access to care issues.
"Latoya selflessly cares for some of Milwaukee's most vulnerable patients," said Megan Struve, Family Services manager, one of four colleagues who nominated Latoya for recognition. "Her role puts her in position to ensure patients and families have the support they need to care for a lifelong diagnosis. In addition, Latoya is a great colleague. She always comes to work with a can-do attitude, she's quick to learn new information, and always helps out her teammates."
Latoya first joined Children's Wisconsin nearly 17 years ago when she was still a social worker in training at the University of Wisconsin-Milwaukee. She's spent the past nine years with the sickle cell program. "I've found my home," she said.
She's a tireless advocate, assisting families with everything from transportation challenges to job opportunities to school scholarships. It's not uncommon for parents to say, "Latoya, fix it." And when she can, she does.
"I'm the fixer-upper," she said with a laugh. But some problems she can't fix, such as when a family is living out of their car and all the local shelters are full. "The most challenging part of my job is when I've exhausted all the resources and I've run out of ways to help families," she said.
Latoya's influence is felt outside of the clinic, too. She served as co-lead of Children's Wisconsin Inclusion, Diversity and Equity sounding board, served as a staff representative on the Children's Wisconsin Family Advisory Committee, and is an active member and past chair of the Social Work Professional Development Council.
"I am most proud of the social worker I've become," she said. "I started off as a student kind of intimated by the families I worked with. I wondered: How am going to meet the needs of my families? But with social work, we're always learning new things and gaining new opportunities, and today I feel confident and even more passionate about this work than I did 16 years ago … This is my jam."
Did you know…Latoya loves singing karaoke, snowmobiling with friends up north, and doing community service with her sorority sisters. 
Langston Verdin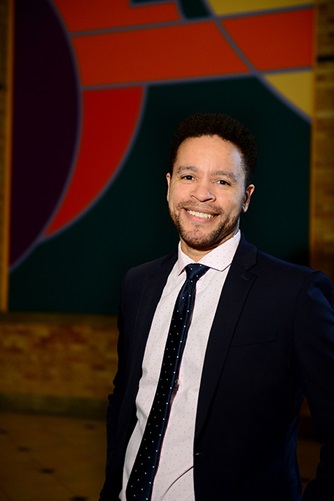 Program leader of Strategic Partnerships, Children's Health Alliance of WI
Nominated by: Genevieve Daniels
Langston Verdin has always believed in the power of community. Nearly 20 years ago, he and his brothers founded Summer of Peace, a youth-led anti-violence protest that continues to draw hundreds every year and has now expanded to Chicago.
"I come from a very socially active family," he said. "I've been marching in protests since I was a baby. It was one of those summers when the levels of community violence were off the charts, and we started thinking: How do we respond to this?"
That commitment to community-based solutions drives Langston's work at Children's Wisconsin, too. Over the past 15 years, he has worked in the treatment foster care program for Community Services, the then Population Health Management department, and now Children's Health Alliance.
Langston focuses on strategic partnerships for Children's Wisconsin asthma initiative, including overseeing the Wisconsin Asthma Coalition. "I love to meet folks in the community and build relationships and help people see the value and the capacity-building in those relationships," said Verdin. He recently worked with partners on a policy paper about improving housing conditions for Milwaukee renters. "If we want to truly have the healthiest kids in the country, we have to look outside the walls of the hospital."
That's one reason why Langston has stayed at Children's Wisconsin all these years. "I am really proud that Children's Wisconsin is investing in these community-based health initiatives," he said. "There are a lot of other health systems that are leaving or threatening to leave the central city, and instead Children's Wisconsin is investing in these clinics in the heart of Milwaukee, and that's something I really value because I grew up in these communities."
Langston is an innovative and analytical thinker with a deep commitment to helping the underserved, said Genevieve Daniels, organizational development director. He also strives to strengthen his workplace, whether by working on the performance management cross-system team, presenting a poverty simulation at a leaders' forum, or serving on Children's Wisconsin Inclusion, Diversity and Equity sounding board.
"It's really important to me to be intentional about mentoring and to help my staff grow and reach their full potential," he said. "I've had the ability to learn from so many great leaders both at Children's Wisconsin and externally, and that's something I really value and want to pass on."
Did you know…Langston has played on a kickball team for nearly two decades, and he loves paintball and kickboxing, too. "I feel alive when I'm active," he said.