Visiting our Milwaukee campus
Visitor restriction
In our Milwaukee hospital, visitor lists are limited to two adult parents/caregivers only. These two names must remain the same for the entire stay. These two individuals are allowed to be at the bedside (for overnight and extended stays only) at the same time. Allowing them both to be here at the same time promotes the family-centered care we are committed to and provides additional support at the bedside, particularly for long hospital stays. We are still able to maintain low numbers of visitors with this policy, which helps reduce the risk of exposure to COVID-19. Exceptions will be made for some situations that could include end-of-life and caregiver teaching and educational sessions. All other exceptions must be approved by unit leadership during weekdays and the patient care manager in-house on evenings and weekends.
In our emergency department: Two adult visitors can accompany any child that is brought to our emergency department.
Surgical services at the Milwaukee campus and at our Surgicenter: Any patient having surgery at the Milwaukee hospital or Surgicenter will be allowed two have two adult visitors (and no siblings) accompany them.
In all of our urgent, primary, and specialty care clinics, and in our imaging department: Only one caregiver (and no siblings) will be allowed to accompany a child to an appointment. This will help us reduce the number of people coming into our facilities. If siblings have back-to-back appointments, you can contact the clinic to ask if an exception to the rule can be made. 
---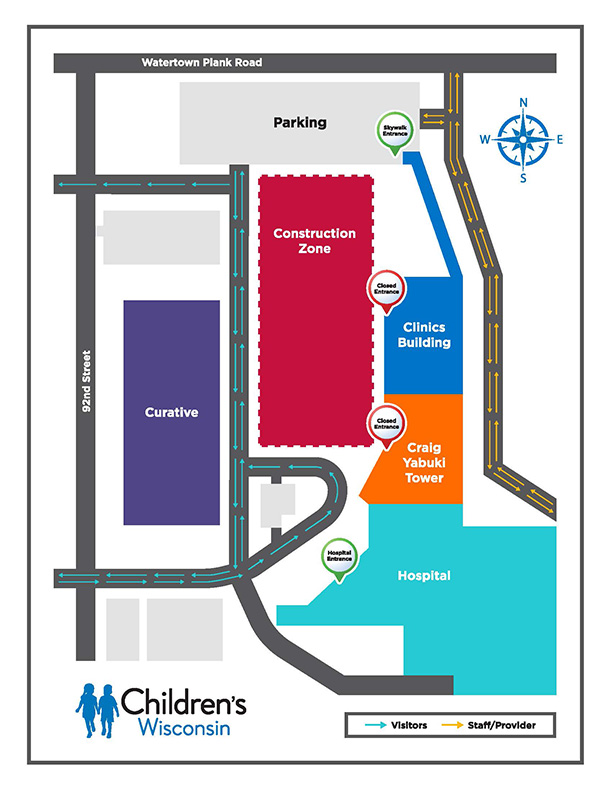 Welcome to Children's Wisconsin's Milwaukee campus! We provide care designed to meet the unique needs of your child and your family. We believe kids deserve the best.
An important construction notice:
While the information found here is meant to help you during your child's visit to our Milwaukee campus facility, if you have any questions or concerns, please ask your child's care providers for help or contact Patient Relations at (414) 266-7848.
Ramp closures on the Milwaukee campus:

To complete some work for the Zoo Interchange Project, there will be temporary closures for some system ramps beginning Sunday, April 25:
I-94 East to I-41 South to close for 4 weeks
WIS 100 entrance ramp to I-41 South to close for 4 weeks
WIS 100 entrance ramp to I-94 East and I-41 North to close for 2 weeks
Please note - the WIS 100 entrance ramp to I-94 West will remain open throughout the work.
To get around the closures, traffic is encouraged to use the following detours:
I-94 East to WIS 100 to Greenfield Avenue to I-41 South
WIS 100 to Bluemound Road to I-41 North or South
WIS 100 to Bluemound Road to 84th Street to I-94 East
Video: Take a tour of our new Clinics Building
Family-centered care
Children's Wisconsin encourages partnerships with open, ongoing communication between family members and healthcare staff. Our goal is to support families in their caregiving roles by building on their strengths.
Parent engagement
You play an important role in helping your child get better. You are a key player.
We also ask that you:
Know who is in charge of your child's care
Make sure all health professionals involved in your child's care have important information about his or her health history. This includes medicines, allergies and reactions, immunizations, developmental needs, past surgeries, or hospital admissions.
Ask why each test of procedure is being done and when the results will be available
Have a family member or friend with you to help support you in your child's care. Choose someone who can help get things done and speak up for you when you cannot.
Insist all care providers who have direct contact with your child clean their hands first
Have the doctor explain the home treatment plan when your child is being discharged from the hospital. If you don't understand, ask for more information.
Participate in daily rounds with the healthcare team
Confidentiality
We release information about a child only when authorized by a parent or legal guardian. Information will not be given to friends, other relatives, or the news media without consent from a legal guardian.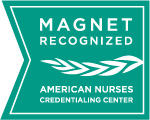 Magnet status
The nurses caring for your child are among the best. Children's Wisconsin has earned the nation's highest nursing honor -- Magnet status -- from the American Nurses Credentialing Center. We've earned this designation for three consecutive four-year periods. That means we attract and retain the nation's top nurses. 
Additional information about Children's Milwaukee campus
Access appointment information and medical records, manage prescriptions, and message your child's doctor. Visit MyChart.

Children's Compass is a free app that helps you find your way around Children's Wisconsin's Milwaukee campus and provides you with valuable information for your stay.