Castle.Proxies.HeroBannerViewModelProxy?.GoogleAnalyticsEventAction
Patient family experience
Our promise to you:
At Children's Wisconsin, we promise to care for and about children and families. Each and every one of us promises to focus on what matters most to every child and family, to communicate openly and honestly, and to include children and families in decisions that impact them.
At Children's, care is designed to meet the unique needs of every child and family. Our goal is to provide family-centered care and services that result in an excellent overall experience. Every day, and with every interaction, we are committed to keeping our promise to you.
Child-friendly
Our expertise goes beyond medical knowledge. We talk to children in ways they can understand and build an environment that will put them at ease, no matter the circumstances.
Video: How we put children at ease
Preparing for your stay
We believe kids deserve the best, so we provide care designed to meet the unique needs of your child and family. Many of our families travel from other cities and we understand being in a new city with a sick child can be stressful. The resources below may help make your visit easier:
Extra care for out-of-town families
We know you want to focus on your child's care. Traveling to a new city should be the last thing on your mind. We can help you plan your visit and schedule your child's appointments. Call (414) 266-6300 or toll-free at (855) 331-6300, visit our Access Center page, or email accesscenter@childrenswi.org.
Visiting another location?
If your visit is to a facility other than our Milwaukee campus or Fox Valley hospitals, you can get maps, directions, and other information by finding the site in our Locations directory.
Go to MyChart
If you are a registered user or have an access code you want to use, go to MyChart.


Download our app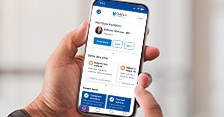 The Children's Wisconsin app gives you the convenience of having your child's health care at your fingertips. You can now access MyChart, video visits, scheduling and our symptom checker and so much more in one place.