Medical records information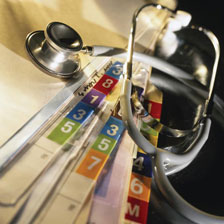 To receive your child's medical records, you must complete and send in the authorization form (PDF). A form is not complete unless a parent or guardian's written signature is on the form. You may fax the completed form to (414) 266-6316 or email it as an attachment to MedicalRecords@childrenswi.org. Find the Proxy access and Adult patient forms on the MyChart page. 
Children's Wisconsin Healthcare Information Management Department
(414) 266-2300
Children's Wisconsin-Fox Valley
Outpatient:
Phone: (920) 969-7970
Fax: (920) 969-7979
Inpatient:
Phone: (920) 729-2164
Fax: (920) 729-2131
Get your medical records through MyChart
MyChart lets you view portions of your child's medical records online, or you can order the complete record for free. It's a secure way you can help manage and receive information about your child's health.

To create a MyChart account at Children's Wisconsin, you can request an activation code online or request one from your provider. Once you have the activation code, you have 60 days to go to mychart.childrenswi.org and activate your account.

Learn more about MyChart's benefits.
Go to MyChart
If you are a registered user or have an access code you want to use, go to MyChart.