Celebrating Black History Month - Part One
---
At Children's Wisconsin, our focus on inclusion, diversity and equity gives us several opportunities throughout the year to celebrate the contributions of our employees and providers. Every day, our teams are making a difference in the care and experience that our patients, clients and members receive and are working to make Children's Wisconsin one of the top workplaces in Wisconsin.
Throughout the month of February and across the United States, celebrations of the achievements and recognition of the role that African-Americans have played in U.S. history are being celebrated during Black History Month. Earlier this month, more than two dozen African-American providers, caregivers and leaders were nominated to be recognized for their contributions to Children's Wisconsin and the community. 
Their heart-warming and inspiring stories tell of their love and care for patients, members, clients, staff and the community.
"It is through getting to know one another better, learning about the uniqueness of our individual backgrounds and experiences that we grow and become more welcoming, more accepting and understanding of our differences, learn what we have in common, and can begin to help each other feel valued, accepted and that we belong," said Theresa Jones, vice president, Inclusion, Diversity and Equity. "These are key elements of creating inclusive work environments for our employees and also help us to provide more inclusive care experiences for everyone we serve."
Keisha Adams, MD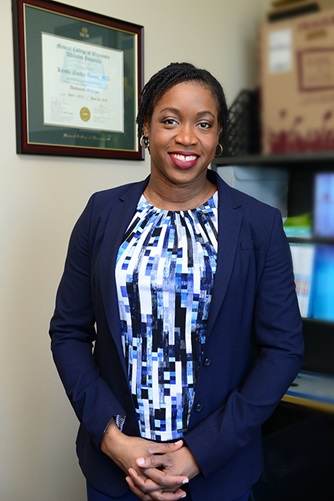 Clinical assistant professor, associate program director, Adolescent Medicine
Nominated by: Alexandria Holliday, MD
Growing up in Grenada, Keisha Adams, MD, had her heart set on being a teacher before she decided to pursue medicine. Her role at Children's Wisconsin unites both passions, allowing her to work directly with youth while also training the next generation of physicians.
As a child, Dr. Adams didn't have a lot of mentors. Her parents did not graduate from high school, so when it came time to go college and then medical school, she had to figure it out on her own. "I'm most proud of the fact that I was able to become a physician despite coming from a family without a strong academic background," she said. "It makes it very hard when you don't necessarily have a lot of people you can turn to for advice."
Dr. Adams first joined Children's Wisconsin nearly five years ago, starting as an Adolescent Medicine fellow and then staying on as an attending physician. Adolescent Medicine is not an area that appeals to everyone, she noted.
"Working with teenagers can be a challenge, but I see it as a positive challenge. Once you break down those barriers, you can get them to open up," she said. "I like the ability to counsel teenage girls about sensitive adolescent topics, like sex, relationships and periods. A lot of times it brings me back to my childhood. I didn't feel comfortable talking about these things with a doctor or my mother, and I feel I can give back to these girls who might not be comfortable discussing these topics with other adults in their life."
"Not only is Dr. Adams an exceptional physician and teacher, she's also an advocate for diversity and inclusion in health care. She is helping residents design a diversity and inclusion curriculum in Adolescent Medicine," said program fellow Alexandria Holliday, MD.
"She has been a great mentor and someone I aspire to be like as I advance further in my career," Dr. Holliday said. "Not only does she treat all her patients with kindness, but she is inspirational for them as well. As we know, Milwaukee is a diverse city, and our patient population is just as diverse. When Black and Brown patients see her enter the room, their eyes light up and she lets them know that with hard work and dedication, they, too can become whatever their hearts desire."
Did you know…Dr. Adams loves to sing. "It's one of the things I've been dying to get involved in again. I hope to join my church choir this next year," she said.
LaVaughn Cotton, MD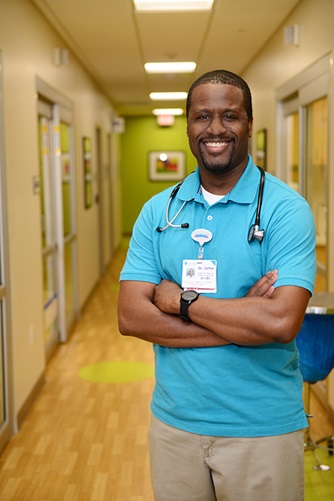 Physician, Urgent Care
Nominated by: Smriti Khare, MD
LaVaughn Cotton lives by three key principles, giving service, equity and justice. When he hears these words, he perks up and feels ignited to take action. As a pediatrician with Children's Wisconsin Urgent Care, Dr. Cotton's actions have made a difference in the lives of countless kids and families and the community. That's why he was nominated by Smriti Khare, MD, president of Children's Wisconsin Primary Care, who said his special approach with children and families in our Urgent Care helps break the ice, remove barriers and empower kids and families.
Dr. Cotton believes he is here to minister to the needs of others and to be a "voice for the voiceless." Dr. Khare said this is obvious when you observe him at work. Dr. Cotton is sensitive to the families he serves. He pays close attention to their unspoken needs, barriers they are encountering and whatever else they may be facing at the moment of encounter. He views his time with families as a learning opportunity for both him and the family.
With beliefs and an approach to care that is grounded in a strong faith in God, Dr. Cotton sees God as the greatest humanitarian and loves all people. He works to give the same grace that was given to him by God, to those he serves. "I grew up in poverty. Several people took time with me, were an example for me and informed me along the way. I work to make it right for people in this world, many of whom come from underserved backgrounds just like I did."
Celebrating Black History Month is important to Dr. Cotton as he believes it helps people to be sensitive, and to appreciate the contributions of others. "Recognizing brilliance lies in the heart of people," said Dr. Cotton. "It is something that you have to be intentional about. Recognizing brilliance allows people to say, 'If he did it, I can learn to do it, too.' Many times, when I was in college and medical school, I would try to contribute, but my attempts to contribute were often ignored. We must all be open to the brilliance of others and to recognize brilliance when it is in the room. It is important to recognize it so that all can be equal."
Did you know…Dr. Cotton is a musician who shares his talents as a member of the Maranatha King of Kings and Lord of Lords Church of God in Christ's Praise and Worship team. He also writes songs and believes music is another language that can be used to share what it is to be human.
Maura Bond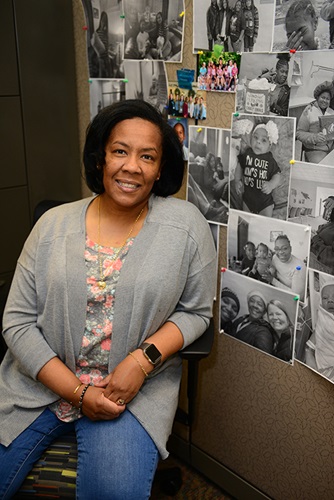 Home visitor, Community Services
Nominated by: Lona Long Velasco
The Robyn's Nest biannual clothing giveaways always fall on Maura Bond's day off work, but that doesn't stop her from helping at the all-day events. Coworkers recall the time when two teen boys came in for clothing, shoes and school supplies, only to be disappointed when they couldn't find shoes they liked in their size.
"When Maura got wind of the problem, she went into action, as Maura typically does," said Lona Long Velasco, community resources specialist with Children's Wisconsin Community Services. "Maura drove home to collect some of her own son's name-brand, stylish tennis shoes to give to the teens. I was there to witness how happy these youth were and how genuine Maura's intention was to meet their needs."
Maura has worked for Children's Wisconsin for 13 years, making home visits to Milwaukee families to provide routine screening, prenatal and child development education, and support. "I love working directly with families and kids," she said. One of her favorite memories: "I was able to be there for a teen mom who was having twins. I actually got to witness their birth."
Leading by example. Excellent problem-solving. A passion to serve. Encouraging people to take good care of themselves so they can take good care of others. These are just some reasons why Maura stands out to her colleagues.
"Maura is an excellent example of someone who is invested in the mission and values of Children's Wisconsin," Velasco said. "Maura's approach to working with children and families is inspiring in every way. She has a natural ability to make others feel valued and cared for even in the midst of struggle and hardship. In Maura's presence, others can transcend life's challenges if only for a brief moment in time to laugh and enjoy her positivity. Maura truly embodies the Children's Wisconsin Way."
Did you know…Maura was born in Vietnam and is Vietnamese and Black. "My real name is Phuong," she noted.
Santanna Hutchinson-Conley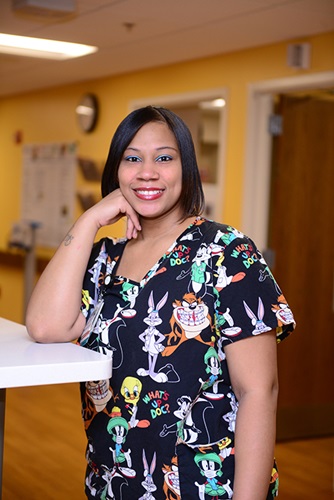 Environmental services attendant, Environmental Services
Nominated by: Ashley Stelter
When Santanna Hutchinson-Conley sweeps through Children's Wisconsin on her cleaning rounds, she leaves more than immaculate rooms in her wake. She also leaves the space a little brighter thanks to her ready smile and infectious energy.
"Santanna is a valued member of the C4 team," said Ashley Stelter, a clinical nurse specialist. "Every day, she is positive and ready to tackle the day, making sure that rooms are clean and presentable to patients and families. She communicates regularly with the health unit coordinator and charge nurse to ensure efficiencies in admissions and discharges to the unit when it comes to cleaning rooms and preparing them. She greets everyone —  staff, patients and families. Whenever Santanna has a day off, we feel the void of her positivity on the unit and how she carries out her work."
Santanna credits her faith for her positivity. "God really inspires me personally and professionally," she said. "To work here you have to have compassion, you have to have love in your heart and you have to have patience to do your job. I come in here wholeheartedly focused on trying to make it better for the children and their families. And I try to keep a positive attitude. It helps to have a smile. You never know who you can touch with one smile."
She understands what it's like to endure the stresses of a child's hospital stay. Her first daughter, who had special needs, passed away at Children's Wisconsin 10 years ago at age 3. Santanna's commitment to Children's Wisconsin has only grown during her nearly five years with EVS.
"It motivates me to come here and work for the children," she said.
Plus, she loves the community she has found on C4. She'll never forget the time her floor made a banner for her during EVS Week. "You never know if people notice your work, so it means so much when they do."
Did you know…Santanna has an associate's degree in molecular biology and a certificate in biotechnology. Eventually she hopes to return to school to study forensic science and toxicology.
Dorian James, CRT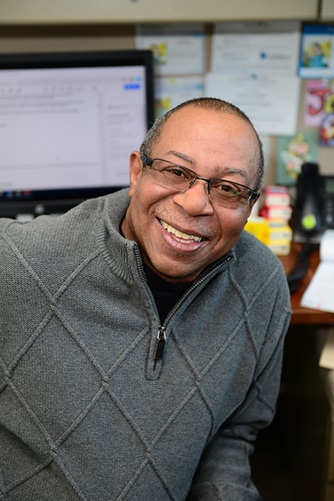 Asthma Management Program coordinator
Nominated by: Diana McGuan
Dorian James is lovingly teased and called "Champ" by his peers because of his work as a community health asthma management program coordinator. He is a certified respiratory therapist who was nominated by Diana McGuan, Community Health school nurse, because of his commitment to helping school nurses better understand the mechanics, assessment and best practices of asthma.
Diane described Dorian as an excellent educator to students, parents and nurses. "Because of his ability to put people at ease, students and parents quickly feel comfortable asking questions and/or voicing concerns," McGuan said. "His great relationship with them really helps to improve their compliance and better outcomes."
Dorian loves seeing his work have a positive impact on Wisconsin kids. "The kids in our community have the worst outcomes. My work directly helps improve the lives of kids by reducing triggers in their home environment." Dorian takes his practice seriously. He strives be the best in the field through his ongoing commitment to continuing education. "You will always find me taking seminars, reading or going to conferences. This way, I am better equipped to know about conditions."
Dorian grew up with a lower socioeconomic background, but his work as a respiratory therapist provided him with successful career progression from emergency rooms to critical care and acute care. "I now work in the homes of children across the community, many of which are minorities and of lower income, just like I was. Through this journey and working with these families, I have been able to contribute greatly to reducing ED and hospital admissions and have seen circumstances change that reduced morbidity and mortality factors. Unfortunately, though, we are still losing way too many kids," said James.
Celebrating Black History Month is important to Dorian. "Knowing the history and contributions of our ancestors to society and globally is important. This information was suppressed for so long. African-Americans were a marginalized and forgotten population."
Dorian is strongly committed to helping improve the lives of kids with asthma. He also puts the same level of energy and commitment into forging relationships with his two grandchildren, ages 4 and 8. In his time off, he has a passion for go-karting and riding roller coasters.
Did you know…Dorian knows the heights and speeds of all of the roller coasters at Cedar Point in Ohio, and can't wait until his grandchildren are tall enough to ride them with him. 
Ranita Kidd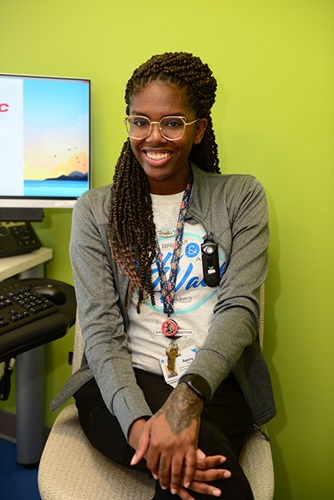 Medical assistant, Mequon Specialty Clinics
Nominated by: Lindsey Sova
It's a common refrain among patients at Mequon Specialty Clinics: "Is Ranita around today? Can I say 'hi'?"
It's just one testament to medical assistant Ranita Kidd's influence during her three years at the Mequon location, where she supports a dozen specialty clinics, ranging from asthma/allergy to cardiology and urology.
"Ranita's interactions with patients and families are top notch," said site manager Lindsey Sova. "She is frequently recognized in patient experience comments for how fun, caring, kind and genuine she is. Ranita is a strong relationship builder. She remembers when she sees patients in a different clinic and they remember her, too."
Ranita, who has epilepsy, spent considerable time at Children's Wisconsin herself growing up. "I knew without a doubt this would be my home. I wanted to pay it forward," she said.
"Her skills and commitment also shine as a preceptor for new clinical staff, and she's a thorough and effective teacher," Sova said.
"I'm most proud of my confidence," Kidd said. "In the beginning, I was a little intimidated because there were so many different specialties, but I knew I could do it. There's always room to learn more, but when I began training and sharing my knowledge with others, I had to take a step back and think, 'Wow, you really got this!'"
Ranita is working toward a bachelor's degree in nursing. She strives not only to improve herself, but also her work environment, frequently identifying barriers and solutions to improve the team's efficiency.
Her can-do spirit is appreciated by her colleagues. "She is flexible and collaborative and doesn't hesitate to help out, whether it's at main campus or at a different regional site," Sova said. "Her ability to be adaptable and jump in and help out wherever there is a need is truly tremendous and of such value."
Did you know…Ranita initially aspired to be a forensic psychologist and was just a year away from completing her major in psychology and minor in criminal justice at University of Wisconsin-Milwaukee before she decided to switch to medical assistant studies at MATC.