Castle.Proxies.HeroBannerViewModelProxy?.GoogleAnalyticsEventAction
Why choose Children's Wisconsin?
There are a lot of places you could take your child when they are sick or injured. But there's only one that offers a dedicated focus on kids and teens — and that makes a difference. From the simplest cold to the most complex surgery, Children's Wisconsin offers the very best care for your child.
The following videos show our deep expertise and help demonstrate why Children's Wisconsin is the right choice.
100% kids and teens
We know kids are not just little adults. They need people to care for them who are specially trained to understand their developing bodies.
Anesthesia
We have more than 30 pediatric-trained anesthesiologists on staff, compared to the one or two you might find at local adult-focused hospitals. Our specialists know how to administer anesthesia to kids safely and effectively.
Child-friendly
Our expertise goes beyond medical knowledge. We talk to children in ways they can understand and build an environment that will put them at ease, no matter the circumstances.
Growth plates
Kids can get a cast put on a broken bone anywhere, but the specialists at Children's Wisconsin also know to look for fractures in growth plates. If growth plates don't heal properly, it can lead to long-term problems.
Pediatric trained
Doctors who normally see adult patients could have trouble spotting pediatric illnesses. But our doctors have seen it all, from the routine to the very complex. When it comes to treating kids, we know what to do.
Imaging
Our staff's specialized training in pediatric radiology allows us to get the best results from an X-ray or MRI the first time, all while using less radiation.
Medication
About 80 percent of medicines don't come with pediatric recommendations. Our doctors and pharmacists have special pediatric training to make sure kids get the correct doses they need.
Emergency care
Adult hospital ERs don't treat many kids, and that can lead to care that isn't always the best and safest. Our entire ER is designed for kids and teens. We recognize when the situation is critical, and when it's safe to send you home.
Diagnosis
Our diagnostic experts are specially trained to recognize kid-specific clues other doctors might miss. We can find answers faster, start treatment quicker, and get your child better sooner.
Download our app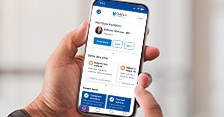 The Children's Wisconsin app gives you the convenience of having your child's health care at your fingertips. You can now access MyChart, video visits, scheduling and our symptom checker and so much more in one place.