ReadySet Instructions
Follow the steps below to create a ReadySet Account.
If you are a REHIRE from September 2016 or more recent, you already have an existing ReadySet account; DO NOT CREATE A NEW ONE.
If you remember your user name [the password can be re-set], please log into chw.readysetsecure.com and complete the health surveys. If you do not remember your user name, please call Employee Health at 414-266-8616 to retrieve your user name so you can log in to complete the health surveys.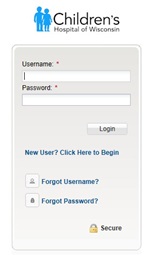 This will take approximately 30 minutes
Step 1: Click the following link to get started: chw.readysetsecure.com
Step 2: Click the "New User? Click Here to Begin" link below the "Login" button.
Step 3: Enter this Access/Org Code: 2487
Step 4: From the Program Type dropdown, there will be several options. Select the following program type provided by your leader or HR Recruiter.
Step 5: Type the code that appears on the Web page to advance to the next page.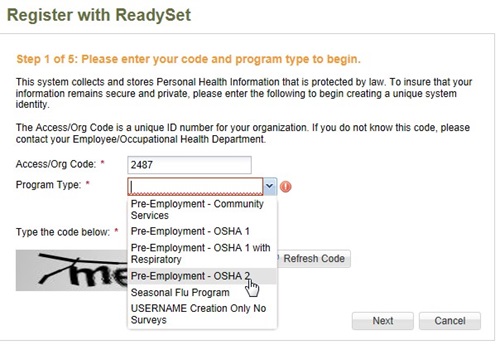 Step 6: Enter your personal information – all fields with an asterisk (*) are required. Remember to use the same name that appears on your employee badge or you used on your application.
When you get to the "Population Type" field, select from the dropdown menu the appropriate field. For new hires, select Pre-employment Candidate/New Hire.

Confirm the information you entered for yourself is correct before clicking the "Next" button.
Step 7: Add additional participation information and click the "Next" button.
Step 8: Follow the instructions on the screen for how to create a username and password. Confirm your personal email address and click the "Next" button.
Don't forget to keep your username and password stored in a safe location for later use.
Step 9: Follow the instructions on the screen for how to set your security questions. When you are finished, click the "Finish and log me in!" button.
Step 11: Click the "System login" button and log in to ReadySet using your newly created username and password.
Step 12: To complete your health surveys you selected in Step 4, click the "Click Here to complete pending survey or questionnaires" link. You must "SUBMIT" all assigned surveys BEFORE you arrive for your pre-employment health physical appointment, flu shot, etc.
There is no need for you to print your survey(s). Clinicians will be able to view your information electronically.

When you've completed your assigned surveys, each one should have a green checkmark next to it.