Castle.Proxies.HeroBannerViewModelProxy?.GoogleAnalyticsEventAction
AIM Spine Center
AIM: Advanced. Innovative. Multidisciplinary. It's not only the meaning behind our name, it's also the driving force behind how we care for kids. At the AIM Spine Center at Children's Wisconsin, our pediatric spine specialists work together to provide outstanding and compassionate care for even the most complex spinal disorders and spine trauma in infants, children and teens.
Speak to a nurse: Call (414) 337-7463
Comprehensive pediatric spine care
To ensure the most effective, comprehensive care for kids, our interdisciplinary team of pediatric spine experts includes specialists from orthopedics, neurology and neurosurgery, physical medicine and rehabilitation, psychology and physical and occupational therapy. From diagnosis through treatment, we'll partner with your family to develop the best care plan for your child. We use noninvasive treatment options whenever possible. If your child needs spinal surgery, our highly skilled surgeons use the most advanced techniques and technology to deliver optimal results and shorter recovery times.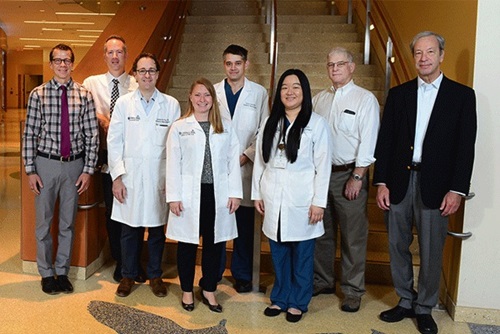 We're here to help you
Our nurse helpline makes it easy for parents and providers to get connected to the right pediatric spine treatment. Experienced triage nurses are available by phone to assist and help guide patient families to the appropriate level of spine care. Our nurses can simplify the referral process as well as help those looking for a second opinion.
Call (414) 337-7463 Monday through Friday, 7:30 a.m. to 5:30 p.m., to begin the intake process or complete our online form.
Video
Watch our video to learn more about the AIM Spine Center and the patients we serve.
Our specialties:
Abnormal curve of the spine including scoliosis, kyphosis and lordosis
Fracture and trauma of the neck, back and spine including spondylolysis
Neuromuscular disorders including spina bifida
Spine conditions we treat
Our team of pediatric spine experts have experience treating a wide variety of common and complex back and spine conditions, including congenital conditions, growth-related problems and back/spine injuries and trauma. Our areas of expertise include:
Birth injuries of the neck, back or spine
Congenital deformity or malformation of the neck, back or spine
Disease of the spine or spinal cord
Fracture of neck, back or spine
Fusion of spine
Head and spine trauma
Injury of nerve root in neck, back or spine
Lumbar disc herniation
Osteochondrosis
Pain in neck, back or spine
Peripheral nerve disorders
Sacrococcygeal disorders
Schmorl's nodes
Sciatica
Spina bifida, tethered cord and other congenital spine anomalies
Spinal instabilities
Spinal stenosis
Sprain of joints and ligaments in neck, back or spine
Strain of muscle in neck, back or spine
Torticollis
Commitment to noninvasive spine treatment
We're committed to doing what's best for kids, and that means avoiding surgery when it's not necessary. Fortunately, with early intervention, many spinal problems can be treated noninvasively. Our expert team continues to develop new brace technology and embrace other treatments and techniques that maximize our patients' quality of life and let kids be kids.
Bracing for early-onset scoliosis
Orthopedic nurse-led scoliosis brace support group
Scoliosis specific therapy with a schroth-certified pediatric therapist
3D-printed brace technology developed by one of our orthopedic physicians
Sports-specific rehabilitation including return-to-sport assessment, injury prevention techniques and performance enhancement training
Spine services we offer:
Testing and imaging:

A full suite of advanced diagnostic testing including EOS low dose radiation imaging, CT, MRI and PET-MRI 
Pediatric interventional radiologists for minimally invasive spinal biopsies, angiography and ablative procedures

Therapy and rehabilitation:

Psychology services to assist patients and families with surgery preparation and recovery
Occupational therapy to assist in returning to normal day-to-day activities
State-of-the-art rehab facilities staffed by pediatric-specific physical and occupational therapists under the guidance of pediatric rehabilitation physicians 

Spine surgery services:

All spine procedures are supported by fellowship-trained pediatric anesthesiologists
For scoliosis surgery, Children's offers orthopedic nurse-led support groups for pre- and post-surgical patients
Real-time monitoring of spinal cord function during surgery to minimize risk of injury
Innovative use of surgical spine technology:
Children's Wisconsin has always been an early adopter of innovative technology that enhances our care, and we're proud to offer imaging technology and surgical tools that you won't find at any other children's hospital in the region. Our advanced technologies include:
Mazor X Stealth robotic navigation: Children's Wisconsin is one of only a handful of spine centers in the country utilizing the Mazor X for robotic-assisted navigation for precise hardware placement in complex surgical cases.
O-arm intraoperative imaging: This allows our surgeons to take real-time imaging during spinal surgeries to ensure the appropriate placement of spinal instrumentation.
Frameless stereotactic-guided technology: Often used in conjunction with the O-arm, this technology allows for precise navigation with in the surgical field, primarily used for accurate placement of spinal hardware.
Vertical Expandable Prosthetic Titanium Rib (VEPTR™): A surgically implanted rod that helps growing children with severe deformities of the chest, spine and ribs.
MAGnetic Expansion Control (MAGEC) System: A surgically implanted rod with an external remote control that is used after the initial surgery to lengthen a growing child's spine. The MAGEC rods are lengthened magnetically every three to six months to improve spinal curves without the need for subsequent surgeries.
Patient stories
After a horrific car accident, Karina didn't know if she would ever walk again. Learn how our doctors from Orthopedics and Neurosciences collaborated to treat Karina's severe injuries.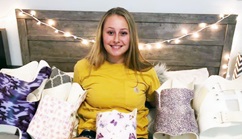 Emerson was diagnosed with scoliosis at 4 years old. While a child can be diagnosed at any age, it is uncommon in young children. Learn how the pediatric spine experts at Children's helped improved Emerson's spine without surgery.