AIM stands for Advanced, Innovative and Multidisciplinary. The AIM Spine Center at Children's Wisconsin is comprised of a team of pediatric spine experts who provide compassionate care from diagnosis through treatment of spinal disorders and spine trauma in infants, children and teens.
Speak to a nurse: Call (414) 33-SPINE
Our team of pediatric spine experts work together to ensure the best care for kids. They represent specialties from orthopedics, neurology and neurosurgery, physical medicine and rehabilitation, psychology and physical and occupational therapy. Their goal is to provide treatment including surgical and non-surgical options that provides the best outcomes for their patients.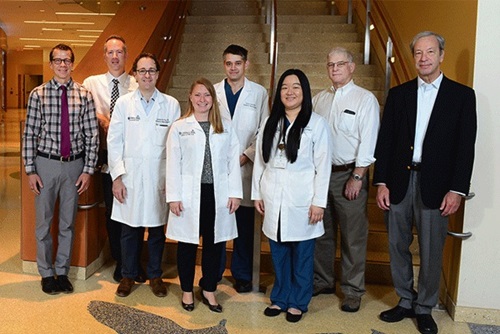 We're here to help you
Our nurse helpline makes it easy for parents and providers looking for pediatric spine care. Experienced triage nurses are available by phone to assist and help guide patient families to the appropriate level of spine care. Our nurses are available to simplify the referral process as well as help those looking for a second opinion.
Call (414) 33-SPINE (77463) available Monday through Friday, 7:30 a.m. to 5:30 p.m. to speak to a triage nurse to begin the intake process or complete our online form.
Conditions we treat
Birth injuries of the neck, back or spine
Chiari malformation – structural problems at the back of the head with the part of the brain that controls balance
Congenital deformity or malformation of the neck, back or spine
Disease of the spine or spinal cord
Fracture of neck, back or spine
Fusion of spine
Head and spine trauma – injury to the head, neck, back or spine
Injuries or disorders of the spine, spinal cord, vertebrae or disc
Injury of nerve root in neck, back or spine
Klippel‐Feil syndrome
Kyphosis
Lordosis
Osteochondrosis
Pain in neck, back or spine
Peripheral nerve disorders – problems which involve the nerve that connect the spinal cord to the rest of the body
Sacrococcygeal disorders
Schmorl's nodes
Sciatica
Spina bifida, tethered cord and other congenital spine anomalies – disorders where the spinal cord and spine fail to develop properly
Spinal instabilities
Spinal stenosis
Sprain of joints and ligaments in neck, back or spine
Strain of muscle in neck, back or spine
Torticollis
Patient stories
After a horrific car accident, Karina didn't know if she would ever walk again. Learn how our doctors from Orthopedics and Neurosciences collaborated to treat Karina's severe injuries.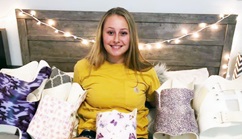 Emerson was diagnosed with scoliosis at 4 years old. While a child can be diagnosed at any age, it is uncommon in young children. Learn how the pediatric spine experts at Children's helped improved Emerson's spine without surgery.