Castle.Proxies.HeroBannerViewModelProxy?.GoogleAnalyticsEventAction
Undiagnosed and Rare Disease Program

There are many children with diseases that remain undiagnosed. Their symptoms don't easily resemble common or known illnesses, so doctors are limited to treating those symptoms. Up to half the children in some clinics remain undiagnosed. Many of these families describe their experiences as a "diagnostic odyssey" as the search for the root cause continues, often going from doctor to doctor, or hospital to hospital.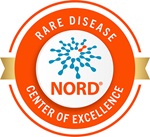 As difficult as it is for parents to watch their children suffer, the lack of a diagnosis adds to the anguish. In addition to their children not getting better, as they navigate their diagnostic odyssey, they sometimes receive inappropriate, costly and ineffective treatments.
Children's Wisconsin has been helping children with rare diseases for decades. More than one-third of the children in our program have been properly diagnosed, and as a result many have been successfully treated. We have one of the highest rates for establishing a diagnosis in the country.
Our success can be tied in part to our exclusive focus on children and decades of clinical experience. In addition, our approach is unique because we have established a strong clinical program that incorporates the latest in diagnostic testing through research, versus a program that is research driven.
Help for children with rare diseases
Our Undiagnosed and Rare Disease Program includes a team of 30 highly trained and experienced pediatric subspecialists, many of whom lead their field nationally. The team includes cardiology, dermatology, developmental biology, endocrinology, gastroenterology, genetics, infectious diseases, neonatology, nephrology, neurology, radiology, rheumatology/immunology, pathology, library sciences and informatics. Additional resources are added to the team as needed.
The combination of our team's clinical expertise and the first fully integrated clinical Genomic Medicine Program (now College of American Pathologists-accredited) in the U.S. gives hope to parents and children suffering from undiagnosed conditions. Families are referred to us and come to our program from throughout the country.
The team was organized and is led by Dr. Bob Kliegman. Dr. Kliegman has treated children and teens with complex illnesses for more than 30 years. In addition, he edits the bestsellilng textbook of pediatrics, used by your pediatrician and many throughout the world.
Does your child need help?
To access our Undiagnosed and Rare Disease Program, call:
(414) 266-2771
Or fill out our online form and we'll get in touch with you.