Patient Stories
May 07, 2015
Beautiful photos of babies in our NICU with their moms
---
Mother's Day is special wherever you celebrate. This year, we met with eight moms who will be spending Mother's Day with their newborns in the Neonatal Intensive Care Units in our Milwaukee and Neenah hospitals.
For some, it will be their first Mother's Day as a mom. In addition to all the emotions that come with a new baby, these moms are dealing with the added challenges of their child not getting to come home right away while facing sometimes serious health complications. We're honored to be able to share some of these beautiful stories and pictures.
Daisy & baby Elias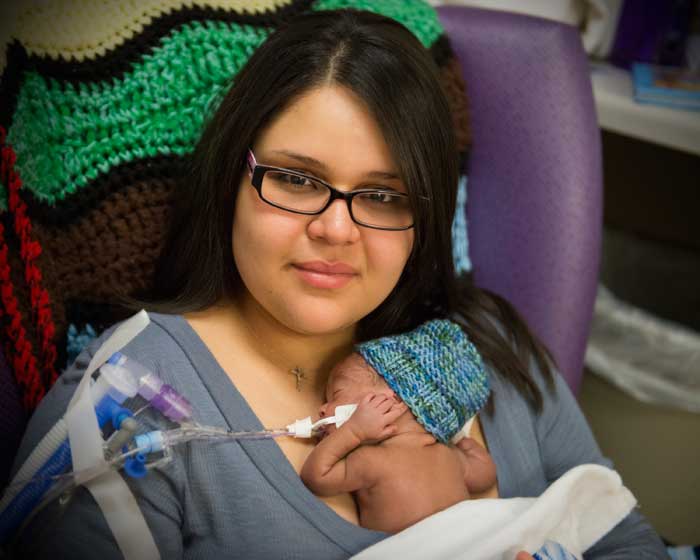 "I can't find the words to describe what it feels like holding my little man," Daisy says. The new mom clutches little Elias, who was just 3 pounds when he was born, to her chest, their skin touching. But this is more than the average cuddle session. Kangaroo care is a recognized technique to help pre-term infants grow stronger, and Daisy says she's noticed results. Elias keeps growing stronger, responding to his mom's touch and her voice as she reads to him and whispers sweet messages into his tiny ears. The sessions tend to last 45 minutes to an hour, sometimes two hours. But Daisy could go for a lot more. "As long as he lets me, I'll hold him forever."
Jessica & baby Jace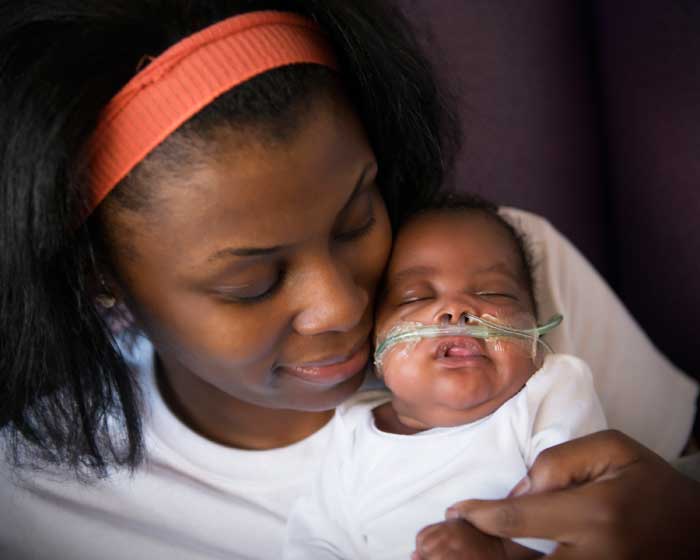 Kangaroo care also has helped young Jace, who was only 1 pound when he was born at 25 weeks. But more than three months later, he's a strapping 7 pounds, and gaining every day. His mom, Jessica, is a believer. "They told me how much good it would do, but I wasn't really sure. 'Really? It can do all that?' But it really, really does. I've seen it. He loves it." Jace still needs help to breathe — he takes the breath, but a machine gives him the air — and Jessica knows there will be a lot involved in taking care of him when he gets to go home. But it's a challenge she will take on with all the love a mom can give.
Samantha & twins Jackson & Makenzie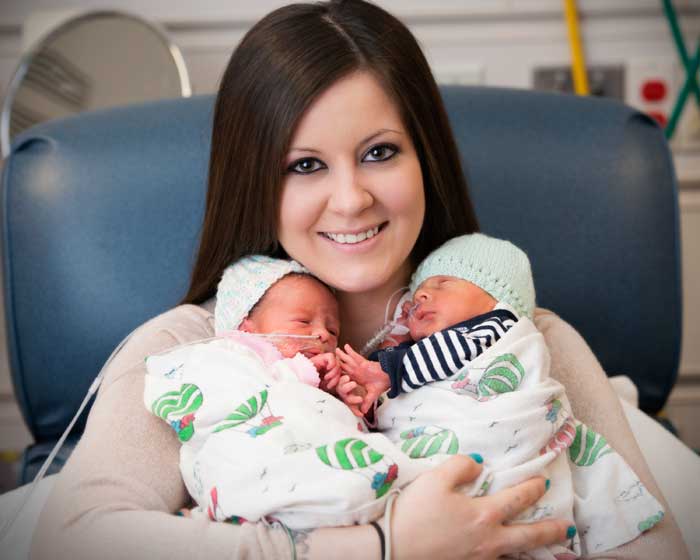 A mom just knows. Even after only five days, Samantha can tell you the different personalities of her twins, Jackson (the laid-back one, pictured on the right) and Makenzie (who's already quite picky, pictured on the left). "I can just see it already," she said. "Their faces and attitudes are so different." The first-time mom got an early surprise when her babies were delivered at 32 weeks, but thankfully she has plenty of friends and family in the area to help out.
Aimee & baby Finnley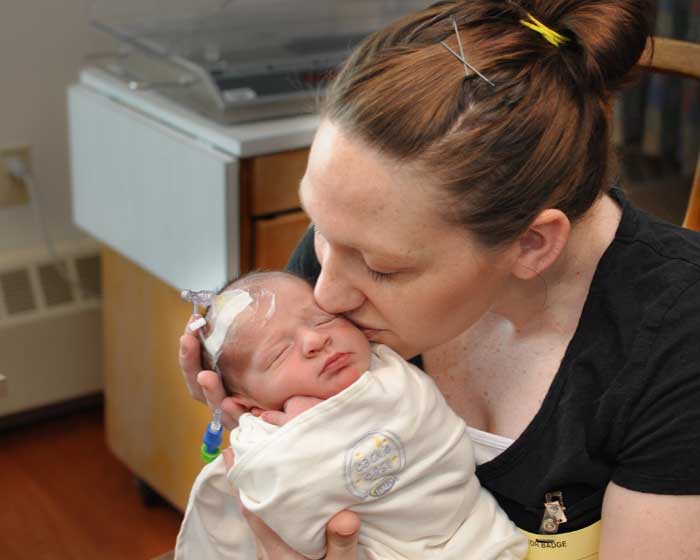 Aimee's heart broke when she learned her first baby, Finnley, was going to need to be in our NICU to treat a respiratory infection. But meeting the nurses in our Fox Valley hospital, about 45 minutes from their Berlin home, helped put her at ease. She and her husband, Brad, spend about seven hours every day with their son, most of it cuddling in a private family room. "For a not so great situation, it is a great experience," Aimee said. "I can't thank the staff enough for taking care of my little peanut."
Stephanie & baby Paisley
Stephanie made the four-hour drive to Children's Wisconsin in Milwaukee from her home in Escanaba, Mich., in February to have her daughter, Paisley, and she's been here ever since. About 24 weeks into the pregnancy, Paisley became just the third baby in Wisconsin to undergo a fetal myelomeningocele surgery (which is performed while still in the womb) aimed at repairing her spina bifida. This surgery was coordinated by the staff at the Fetal Concerns Center of Wisconsin. Stephanie couldn't hold Paisley the first week after she was born, but has barely stopped ever since. "She totally put me through the wringer," Stephanie said with a weary, proud smile. "But she's worth it."
Teala & baby Ariella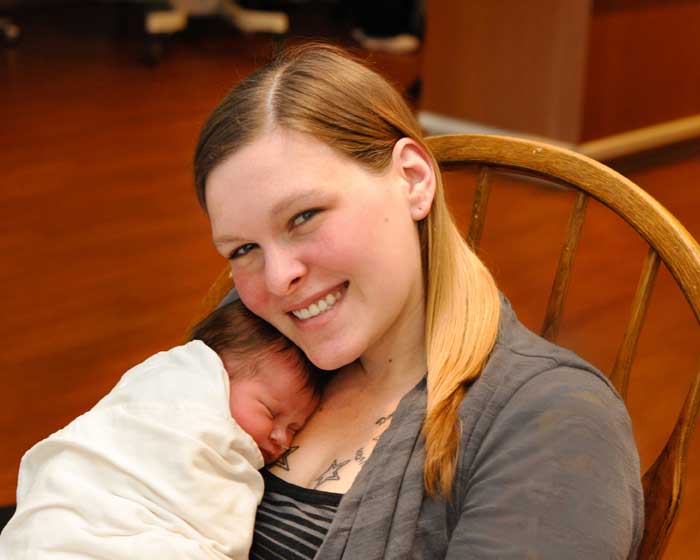 Teala is no stranger to the NICU, as her daughter Ariella is her third baby to spend time there. She had two boys that were born at 30 and 32 weeks, and Ariella came into the world at 33 weeks. Our doctors wanted to keep little Ariella in our NICU until she started eating more regularly. After that, she's expected to head home to hang out with her now perfectly healthy brothers.
Laura & baby Ethan
The "Parent" badge didn't take much getting used to for Laura. After all, she already wears a Children's Wisconsin badge every day, going to work for our Community Services division. "At least I know where I'm going," she said. Her second baby, Ethan, was born seven weeks early, but his time in our NICU has led to a fast and furious recovery. "I remember holding him for the first time and he had trouble breathing. But by the time we were up here, he had a medication to help him and the difference was just so much. It's really amazing how kids grow and develop, and their resiliency."
Abby & baby Anthony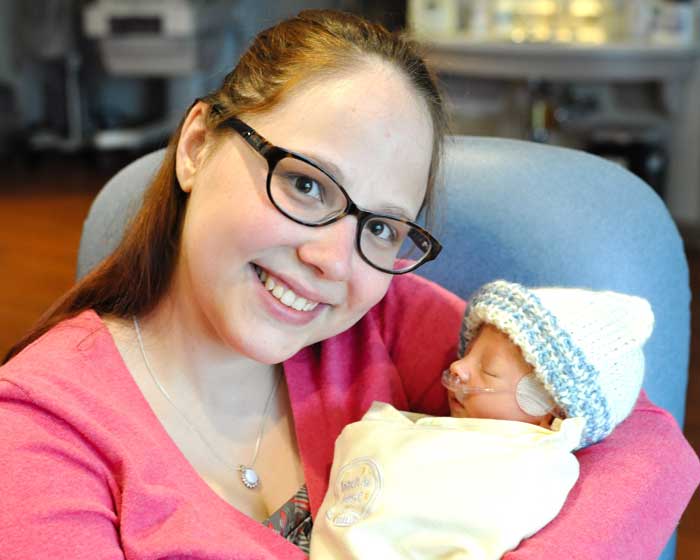 Baby Anthony was apparently just waiting for his parents to buy him his new ride before he made his first appearance in the world. Matt and Abby had only owned their new family-friendly vehicle for a couple hours before Abby went into labor. Mom and Dad are now anxiously awaiting the chance to take their little man out of our NICU and drive to their home in Omro.
Celebrating all moms this Mother's Day
At Children's Wisconsin, we recognize the importance that all moms play in the lives of their children. Whether you're a new mom or a seasoned pro, whether you're spending Mother's Day in the hospital or at home, we wish all moms the very best this Mother's Day.