Children's Hospital of Wisconsin doctors share expertise to improve care for all Wisconsin kids
---
The doctor enters the small urgent care room and introduces herself to a frustrated mom who is pacing, trying to soothe her crying 8-month-old son.
Over baby John's screams, the doctor learns that the little guy has been grouchy for two days, and today simply cannot be consoled. Concerned that his breathing seemed to be different than normal, his mom decided to come to the clinic. Congestion and a cough are present, but John doesn't have a fever, oral secretions or any sign of injury. The doctor quickly scans the baby's hands and feet and finds both are clear. While uncommon, if a hair or thread gets tied around a finger or toe, it can cut off circulation and cause babies to be uncomfortable or miserable.
In the 10 minutes John has been with the doctor, his irritability has worsened. The doctor checks his vitals and runs an EKG only to find that his heart rate is in the 200s — dangerously higher than the 80 to 160 beats per minute typically seen in a baby his age.
The doctor fills a bag with ice and water and presses it on John's face. It's a technique designed to lower the baby's heart rate, but it is not progressing as quickly as desired. It's now time to use an intervention the urgent care doctor has seldom needed to use; she retrieves the defibrillator on the wall and prepares to deliver an electrical shock.
Although a situation like this can strike anytime, this particular one was only a simulation — part of a training scenario led by expert doctors from Children's Wisconsin as part of the hospital's first-ever Best Practices in Pediatrics Emergency Medicine conference. About 80 doctors, nurses and other health care professionals from six states and 30 health systems received the hands-on training.
"John" was a high-tech simulation doll, and the "doctor" was a group of attendees who worked together during the emergency to figure out what to do next.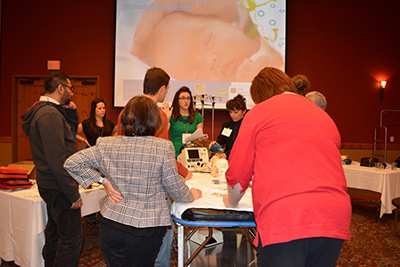 "You might see situations like these every couple years, and it can be really challenging. This is the most realistic way to replicate it," said Jean Pearce, MD, a Children's Wisconsin pediatric emergency medicine fellow who helped lead the sessions.
While pediatric providers — like the ones who took part in this training — are accustomed to treating kids, they might not often find themselves responding to emergencies, especially if they work in an outpatient setting. Conversely, emergency room doctors at adult hospitals are equipped to handle emergencies, but usually have limited experience treating children.
The Best Practices training was an opportunity for Children's Wisconsin doctors to share their expertise with doctors from across Wisconsin and beyond.
"At Children's Wisconsin, we want the kids in Wisconsin to be the healthiest in the nation. To accomplish this, we have to reach out to everyone who cares for children to help them provide the best and safest care," said David Brousseau, MD, medical director of Emergency Services at Children's.
Children's Wisconsintreats 60,000 children under the age of 17 in its emergency room every year, which is more than the next five Wisconsin hospitals combined. But that means the majority of the 380,000 kids who end up in an emergency room in Wisconsin will be treated by doctors who have varying and sometimes limited experience with kids.
Dr. Brousseau said these emergency rooms, along with pediatric offices and urgent care centers, call Children's Wisconsinon a daily basis seeking advice. Those calls can range from a doctor needing confirmation on a treatment plan, to active guidance in stabilizing a patient. When a hospital does not have the necessary expertise or equipment, these calls result in transfers to Children's Wisconsin, either by ambulance or helicopter. In 2015, more than 1,000 children were transferred from 70 Wisconsin hospitals and 10 hospitals in Illinois and Michigan.
In 2015, more than 1,000 children were transferred to Children's Wisconsin from 70 Wisconsin hospitals and 10 hospitals in Illinois and Michigan.
"Pediatric care versus adult care, especially in emergency situations, is very different," Dr. Pearce said. "One of the main things is kids look very well and do well until all of a sudden they aren't. The change can be very abrupt, and that requires you to act in a different way. Also, kids are different than adults because they're not as verbal and can't always tell you what's going on."
"A lot of people say kids are small adults, but it's not true," added Daisy Ciener, MD, a Children's Wisconsin pediatric emergency medicine fellow who also led simulation sessions. "Children have different physiology and different diseases that only present in kids, so it's important to have specific pediatric training in those cases."
Some medical emergencies also typically only happen to children, which is why the conference included a session on the odd objects that end up in kids' ears, noses and stomachs.
John Cox, MD, a Children's Wisconsin pediatric emergency medicine fellow, shared a case of a 10-year-old boy who came into the emergency room after swallowing refrigerator magnets.
Thankfully, the magnets stuck together in a line. The boy was not exhibiting any clinical symptoms such as abdominal pain and did not require medical intervention. However, Dr. Cox said that if the magnets had not traveled together, it would have been a true emergency, because magnets can compress different sections of the digestive tract and prevent food and liquid from passing through.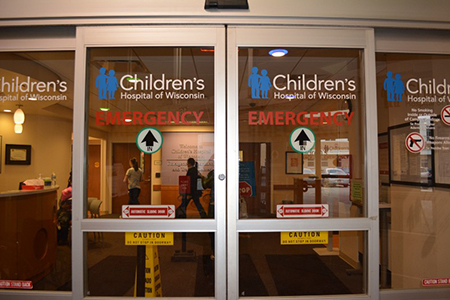 Swallowing sharp objects also doesn't always constitute an emergency, according to other case studies Dr. Cox reviewed with attendees. A 16-year-old boy working on a construction site, for instance, swallowed a nail when he fell 4 feet, but Dr. Cox said the nail passed on its own.
On the other hand, he said batteries need to be removed right away, and coins should be extracted within 24 hours.
Other lessons shared ways that Children's Wisconsin doctors adapt treatments to be easier for kids. For example, Catherine Ferguson, MD, a Children's Wisconsin emergency room physician, explained how to fix lacerations using a skin adhesive.
"A lot of ER doctors are familiar with repairing lacerations, but we were thinking about our colleagues in pediatric or family practice offices who don't see them as often," she said. Dr. Ferguson demonstrated how to use the adhesive in place of stitches, which are often painful and scary for kids. Participants then had an opportunity to try the adhesive on pig feet, as pigskin is closely related to human skin.
The adhesive also can be used to repair lacerations on the scalp using a unique hair-tying technique.
Attendees used wigs on mannequin heads to practice tying strands of hair on each side of a laceration together into a simple knot and then gluing it with the skin adhesive. According to Ferguson, this method is less time-consuming for providers, and it reduces the risk of sewing hair into the wound.
Such hands-on components of the conference were well-received by participants like Cassandra Thomas, a physician assistant from Blessing Hospital in Quincy, Illinois.
"You [were able] to ask questions, and that made it more interactive," she said.
Thomas does not often treat kids, and called the conference "a good refresher."
Margaret Hujet, a physician assistant from St. Mary's Hospital and St. Vincent Hospital in Green Bay, Wisconsin, said she does see kids on a daily basis, but still learned valuable skills such as easy calculations for estimating weights, abnormal vital signs based on age, and pain control techniques for fractures.
"You have a better outcome if you know how to deal with kids specifically," Hujet said.
Beyond the skills that were taught and refreshed, Dr. Cox said the conference helped Children's Wisconsin emergency room doctors form stronger relationships with outside providers who regularly call them seeking their expertise.
"There's a number of people I've talked to on the phone multiple times, but I now was able to meet in person," he said. "It provides a bit more of a personal relationship."
Those relationships are important, according to Dr. Cox, because good communication leads to better outcomes and more efficient, cost-effective care for kids and families across the state.