Children's Hospital of Wisconsin employee wins gold medal at Special Olympics
---
I have the privilege of working alongside an incredible person who inspires me every day. And now, thanks to the attention she's getting after her awesome performance last week at the Special Olympics World Games, a whole lot more people are going to be inspired by Olivia Quigley.
Olivia has overcome so much in her life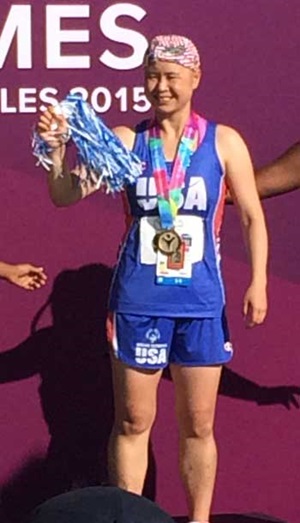 ESPN and USA Today,
who both ran stories on Olivia.
Olivia was diagnosed with autism at age 3, has dealt with depression and obsessive compulsive disorder, and at age 24 is now undergoing chemotherapy for Stage 4 breast cancer. But none of that stops her from living her life and accomplishing her goals.
Competing at the Special Olympic games in Los Angeles was so important to her, in fact, that she postponed chemo just so she could race. And race she did, winning a gold medal – and a bunch of new admirers.
Among those new admirers are ESPN and USA Today, who both ran stories on Olivia.
We at Children's Wisconsin have known about Olivia for a while now. She's worked in our Nutrition and Food Services department for three years after having gone through our Project SEARCH program, and I'm proud to be her manager. She started as an intern, worked her way into a full-time position, and has gone on to receive a promotion during her time here.
The cancer diagnosis has been difficult on Olivia, but her spirit has remained strong. She shows us every day how to get the most you can out of life, and it's so great to know that more people will now hear her story.