Children's Hospital of Wisconsin nurses lead the way to excellence
---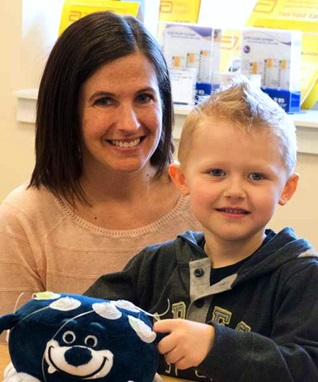 The parents of 7-year-old Carter
were one of many families who nominated
Lynn Estacio for Nurse of the Year.
Carter is pictured with Lynn.
In celebration of National Nurses Week, we are honoring our Children's Wisconsin nurses in many ways.
Day in and day out, each and every one of them demonstrates excellence — excellence in patient care, leadership, mentoring and furthering nursing science through evidence-based practice and research. I am so proud of the many accomplishments of our nurses!
Recognizing the excellence of our nurses extends far beyond me. Each year, the Milwaukee Journal Sentinel provides an opportunity for readers to nominate a nurse for its Nurse of the Year competition. This year, 200 nominations were submitted, and of them, 14 were for Children's Wisconsin nurses. If that isn't exciting enough, Lynn Estacio, BSN, RN, nurse clinician in our Diabetes Program was named First Runner-up.
We are privileged to have Lynn on our team
One of the families that nominated Lynn wrote about her caring and compassionate ways for treating not only their child, but their entire family:
"Exceeding our expectations has been the norm for Lynn. Besides being a competent and knowledgeable nurse, she goes out of her way to make sure our daughter is properly cared for. She took our entire family under her wing and gave us the hope and support we needed to work through our new life with T1D."
Patricia Donohoue, MD, pediatric endocrinologist, was not surprised to learn of Lynn being named Nurse of the Year First Runner-up:
"There could not have been a more perfect nurse to receive this recognition. Lynn is a deeply caring and dedicated advocator for patients with diabetes and their families. Her efforts and actions impact all aspects of their lives, not just their day-to-day medical challenges. She is a model of 'best practice' that we can all learn from. I am privileged to be her colleague."
From all of us at Children's Wisconsin — and especially our entire diabetes team who works with you every day — congratulations, Lynn! We're so proud of you.
Thank you to all of our nurses, who continuously lead the way to excellence through collaboration, continuous learning and thinking innovatively, all with the shared vision of helping kids in Wisconsin be the healthiest in the country.