Caring for kids during COVID-19: Safety at the hospital
---
We know what it takes to care for kids, no matter what, particularly in the hospital. Because of COVID-19, we've made some changes so that our hospitals continues to be one of the safest places for kids. Many steps you may not notice because we've done them for a long time. Other steps will be more visible, including everyone wearing masks and enhanced visitor restrictions.
Testing: COVID-19 symptoms are typically mild in kids, so we test all kids who are coming in for surgery or being admitted to the hospital just in case.


Separating patients: Kids scheduled for surgery will be tested for COVID-19 one or two days before the procedure. If the test is positive, the surgery will be postponed or moved to an operating room solely used for patients who test positive. Kids in the hospital who test positive are also placed in specialized rooms on a designated patient care unit in the hospital.


Specialized rooms: As a top pediatric hospital, our hospital is designed and equipped to help reduce infections. Air pressure and air flow in certain operating and patient rooms can be managed to reduce the potential spread of viruses, including COVID-19. While we've had very few patients with COVID-19, when we did, the air pressure prevented air leaving that room even when the door was opened.


Prioritizing surgeries: Children's Wisconsin followed the Centers for Disease Control and Prevention (CDC) recommendation to cancel all surgeries that were not emergent. Some surgeries that were delayed are now being rescheduled. Cases are reviewed on a weekly basis for time-sensitivity. Surgeries are being prioritized based on the potential for complications, delayed development, risk of longer recovery times and other factors. If your child's care team feels that a surgery should not be delayed or can now be safely scheduled, they will contact you.


Masks, gowns and gloves: In addition to masks, care teams may wear additional protective gear including gowns, eye protection or face shields. The equipment they wear depends on the type of procedure being done and is decided by our Infection Prevention experts.


Telehealth: iPads may be used for communication between doctors, kids and caregivers. This helps support social distancing and reduce exposure to COVID-19. It also helps conserve masks, gowns and other protective equipment, which is important to reduce exposure as well. MyChart messages and phone calls may also be used during a child's hospital stay or to support follow-up care.
Kids still break arms, get diagnosed with cancer and need to have their appendix removed. No matter what is needed or when, we will do what is in the best interest of you and your child. Just like always.
You're not in this alone
While COVID-19 typically presents mildly in children, it's natural to have questions and concerns. All you want is what's best for your child. That is our goal, too.
Please do not hesitate to call your child's doctor's office, use MyChart messaging or call your clinic.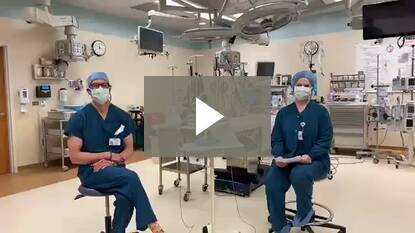 Information on other Children's Wisconsin locations
Visiting a Children's Wisconsin location might look a bit different due to COVID-19 and we want you to be prepared. Learn more about what can expect at our different locations.