Caring for kids during COVID-19: Safety in the emergency room and urgent care
---
Children's Wisconsin Emergency Department and urgent care clinics continue to provide the care families need. Just because schools are closed doesn't mean kids stop breaking arms, swallowing whatever they can get their little hands on, developing dangerously high fevers or experiencing a serious medical scare.
Many steps have been put in place to keep you and your child safe when you come to our Emergency Room or an urgent care location. One thing that hasn't changed is the dedication and commitment our staff and providers have for treating kids.
Emergency Department
As the only Level I pediatric trauma center in the region, the Children's Wisconsin Emergency Department on the Milwaukee campus remains open 24 hours a day, 7 days a week for critical care. As always, you should call 911 for emergencies. 
If your doctor or another medical expert is recommending you come to the Emergency Department, know we have taken many steps to keep you and your child safe, including:
Separating patients: Our goal is minimize waits in waiting rooms and to get you and your child into an exam room, which are all private, as quickly as possible. If you need to wait, there will be clear and friendly reminders to maintain social distancing.


Masks, gowns, gloves and eye protection: In addition to masks, care teams may wear additional protective gear including gowns, eye protection or face shields. The equipment they wear depends on the type of procedure being done and is decided by our Infection Prevention experts.


Social distancing: Social distancing is encouraged and followed throughout the department.


Telehealth: To help limit the number of people your family interacts with, some doctors may communicate through an iPad while in the Emergency Department. We are also expanding telehealth options over phone and video for follow-up care, limiting the amount of times you need to come to a clinic while still providing access to some of the top pediatric specialists in the country.


Testing: If your child does not need to be admitted to the hospital, your child's doctor will determine if a COVID-19 test should be done. If your child needs to be admitted to the hospital or have a surgery, they will be tested immediately for COVID-19.
As a reminder, Children's Wisconsin is not a public testing location for COVID-19. If you are concerned your child may have COVID-19, please call your or your child's primary care doctor, who can help decide if your child should be tested.
Urgent care
Our urgent care providers continue to be available for families and you can see what conditions can be evaluated through video on the online urgent care website. We have expanded the amount of doctors providing urgent care video visits, limiting the families who need to come to physical office for an exam. Some of urgent care locations are closed, so please check our website to find an open location and to reserve a time online.
Universal masking: If you come in for a visit in person, everyone will be wearing a mask. You and your child are encouraged to bring your own masks, but we will provide masks if needed. It's important for your safety and the safety of the staff and doctors.


Masks, gowns, gloves and eye protection: In addition to masks, care teams may wear additional protective gear including gowns, eye protection or face shields. The equipment they wear depends on the type of symptoms a child is experiencing.


Waiting room: For walk-in appointments, we are committed to limiting the time you need to be in the waiting room. We encourage families to reserve a time online and are committed to getting families into exam rooms as quickly as possible. If you do have to wait, you will notice we've added some friendly reminder to our waiting rooms to help ensure everyone is following social distancing practices.


Cleaning: Our staff wipe down and clean each room between every patient, including high-touch areas like chairs and door handles. Waiting room areas are also cleaned throughout the day by our staff members. Our facilities also get thoroughly cleaned every day by trained environmental service staff who follow criteria that have been reviewed by our Infection Prevention team.
You're not in this alone
While COVID-19 typically presents mildly in children, it's natural to have questions and concerns. All you want is what's best for your child. That is our goal, too.
Please do not hesitate to call your child's doctor's office, use MyChart messaging or call your clinic.
Additional information about steps Children's Wisconsin has taken to respond to COVID-19 and to keep kids and families safe is available at childrenswi.org/coronavirus.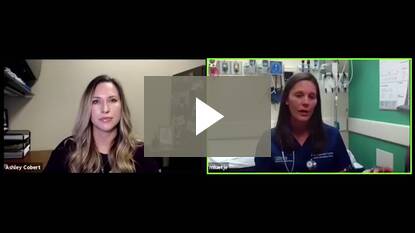 Information on other Children's Wisconsin locations
Visiting a Children's Wisconsin location might look a bit different due to COVID-19 and we want you to be prepared. Learn more about what can expect at our different locations.