Bivalent? Omicron? New? What is this COVID-19 booster?
---
New COVID-19 booster. The omicron booster. The bivalent booster. What does it all mean? They actually mean the same thing! A new COVID-19 booster has been released by both Pfizer-BioNTech and Moderna that has been updated to target the omicron and related strains of COVID-19. Both have been approved by the Centers for Disease Control and Prevention (CDC) and the U.S. Food and Drug Administration (FDA). 
The process to create these updated boosters is very similar to what we already do with the flu vaccine every year — a lot of research and data collection go into deciding which strains of influenza should be targeted by the vaccine for that season, and the vaccine is updated to do just that. For these new omicron boosters, half of the new "recipe" targets the original COVID-19 strain and half targets the currently dominant BA.4 and BA.5 omicron strains, making it even more effective at protecting you and your child.
Do kids really need to get the new omicron booster?
While we're very thankful most kids continue to get less seriously ill than adults, COVID-19 continues to impact them. More than 14.8 million children have tested positive for COVID-19 in the United States since the onset of the pandemic. And we expect that number is even higher due to at-home tests that are not reported. Some of those children get very sick and require hospitalization or need to be placed on a ventilator to help them breathe. When that happens, everyone at Children's Wisconsin is ready to help. We also know that some children have developed a rare, but serious, inflammatory condition called Multisystem Inflammatory Syndrome in Children, or MIS-C as a result of COVID-19. Again, we can help. 
COVID-19 also impacts their day-to-day with disruptions to school and other activities. It's important to vaccinate kids for their protection, to help protect your family, and to help stop community spread of COVID-19. Widespread vaccination is a critical tool to help stop the pandemic and continue doing the things we (and our kids) love.
Who can get the new omicron boosters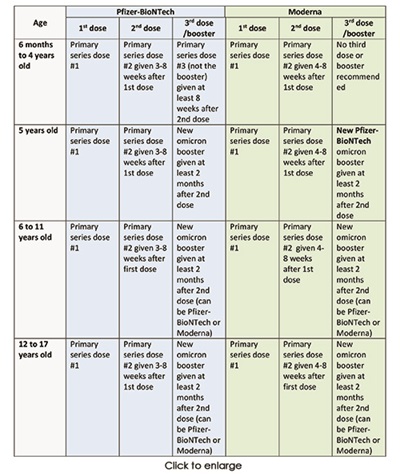 Basically, anyone 5 years old or older can receive the new omicron booster, but it depends on their past vaccinations. We've laid it all out in the table below based on age. Reminder: All COVID-19 vaccine or booster dosages are based on age on the day of vaccination, not on size or weight. Children get a smaller dose of the COVID-19 vaccine or booster based on their age group.
For more information on the COVID-19 vaccines and boosters, visit the CDC's website. 
When should you get the new omicron booster?
Anyone eligible should get the new omicron booster as soon as they are eligible (at least 2 months since their last COVID-19 vaccine dose). With end-of-year holidays just around the corner, now is the time to get vaccinated to avoid disrupting time spent with friends and family. We're also entering viral season (influenza, respiratory syncytial virus and others). Typically, it takes about two to three weeks for the vaccines or boosters to take full effect. However, you get at least some protection right away.
Where can you get the new omicron booster?
Parents and caregivers should contact their child's primary care provider to learn about the availability of the COVID-19 booster. Information about receiving the COVID-19 booster at Children's Wisconsin can be found on our website.
But it's good to know most pharmacies are also offering the new omicron booster for anyone 5 years old or older. For more information on where to receive a COVID-19 vaccine, booster, or flu shot, visit healthymke.com.
Remember, it is safe to receive a COVID-19 vaccine or booster at the same appointment when getting a flu vaccine.
How else can we protect kids and others?
Continue to have kids wash their hands often, watch their distance from others who you don't know, and consider wearing a mask in public settings when transmission is high in your area.
Every family has its own risk tolerance. If your family includes vaccinated and unvaccinated individuals, decide on your risk tolerance for your entire family. Where you're going, how many people will be there, how much time you'll spend there, and the vaccination status of attendees are factors to take into consideration.
Perhaps most importantly, do not send your child to school or daycare if they are sick. Staying home will prevent the spread of viruses.
As always, we encourage you to speak with your child's pediatrician if you have specific questions or concerns about your child's health or unique family situation.