COVID-19 vaccinations: What they mean for kids and myths
---
The emergency use approval of COVD-19 vaccines is the greatest hope we have in getting back to life as normal (or as normal as it can be after a pandemic). The vaccines will help get kids back in the classroom, competing with their teammates and enjoying family traditions, but the most important thing is that the vaccine will help save lives. To help address questions about COVID-19 vaccines, a group of experts and leaders from Children's Wisconsin held a live conversation online. Below is the recording of that conversation along with clickable timestamps, noting the questions that were answered throughout.
COVID-19 vaccination updates
During a live stream event on Feb. 25, a team of Children's Wisconsin experts provided a vaccination update and answered questions from families, which included: When will the vaccines be approved for kids? Will some kids be eligible before others? What about parents and guardians with underlying health conditions or someone who is the sole caregiver to a child with complex medical needs?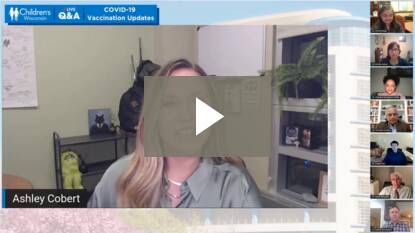 COVID-19 vaccination myths
A second live stream event was held on March 3 focused on COVID-19 vaccine myths and facts. Our experts answered questions like: Was the vaccine developed too quickly? Are there long-term side effects?Do I need the vaccine if I already had COVID-19? Will the vaccine alter my DNA?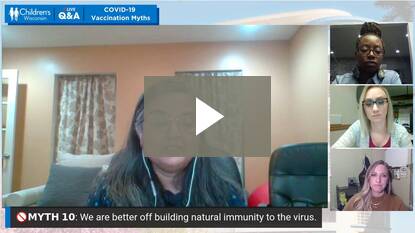 To schedule a COVID-19 vaccine appointment online for your child, please visit the Children's Wisconsin COVID-19 vaccine page.